This week's supplement examines two key challenges affecting the NHS: eliminating poor hand hygiene in the hospitals and how organisations can best share and use patient information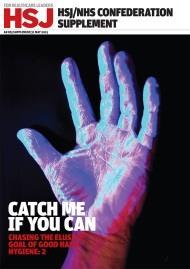 The HSJ/NHS Confederation supplement is free to download.
Hand hygiene
Despite major campaigns in the past to eradicate the hazards of poor hand hygiene, problems in the NHS remain. Jennifer Trueland looks at the
possible remedies and at two case studies showing how the issue can be tackled. Columnist Phil Spark offers thoughts on a cost-effective, electronic solution.
Patient data
Daloni Carlisle finds that seamless sharing across the health service could finally become a reality, and looks at two organisations which have used TPP's SystmOne for easy access to records. And columnist Dr John Parry sets out his arguments for why sharing must become standard practice in the NHS.
The HSJ/NHS Confederation supplement can be downloaded as a PDF now.