Rapid advances in imaging technology, as well as better processes and remote monitoring, can help the NHS respond to the rising demand for cancer care. By Alison Moore
Every cancer patient would like there to be a wonder drug which eliminates their illness with a single pill but in reality improvements in cancer healthcare are often evolutionary rather than revolutionary. And while drugs can hog the headlines, innovative technologies aimed at helping identify, diagnose and treat cancer have an important part to play.
As well as improving care for patients – and minimising the disruption to their lives – such systems can streamline processes and potentially save trusts money.
Having to redo scans or calling people into hospitals for treatments they are not well enough to receive is not just inconvenient for those patients, it is also a waste of money.
Growing pains
And it comes in the context of increasing pressure on services. Demands for more complex imaging - vital in diagnosing and staging cancer - are steadily growing.
"There are huge pressures across the board – not just from cancer – for imaging," says Dr John Hall, clinical director at Frimley Park Hospital Foundation Trust.
"Most centres are experiencing something around a 10-15 per cent increase a year in demand."
'There has been a move away from doing the most easily available test to doing the best one, which raises issues around access'
This can often be concentrated on the more advanced forms of scanning such as MRI.
"Clinicians are increasingly using sophisticated tests," he says. "Some of the old acceptance that doctor knew best from putting his hands on you is getting challenged."
There has also been a move away from doing the most easily available test to doing the best one, which raises issues around access, he says.
One move has been from analogue to digital, which allows a better quality image. PET/CT (positron emission tomography/computerised tomography) scanning is one of the areas seeing a rapid increase in demand, says Dr Peter Strouhal, consultant in radiology and nuclear medicine at The Royal Wolverhampton Hospitals Trust.
This technology allows accurate staging of tumours with one scan, rather than multiple ones; it can also allow smaller cancers to be spotted earlier which could allow for better outcomes. A lower dose of radiation compared with multiple scans is a key patient benefit.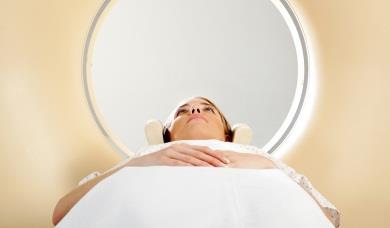 For trusts, meeting this increased demand can mean buying more equipment and employing more staff. But part of the solution can be using equipment which supports a quicker flow of patients – something patients appreciate as well, since no one likes undergoing a long scan.
"You want to minimise the time that it will take the patient… you want that done as quickly as possible. It is good for the patient and if you have 30 patients to be seen you want to get through as quickly as you can," says Dr Hall.
"Sometimes the limiting factor is how quickly you can get people on and off the table," agrees Dr Strouhal.
Hub of the hospital
He adds the increasing demand for imaging has staffing implications: imaging is now becoming the hub of the hospital, used in more and more diagnoses, and also for follow up. He welcomes the quicker imaging which means that more slots can be created for patients - but that will lead to a greater demand for radiologists who will still have to read each scan.
Improvements in imaging often have other patient benefits as well, such as significantly lower doses of radiation. Image-guided radiotherapy can mean less damage to surrounding tissue and could encourage patient compliance with treatment as morbidity is reduced.
Longer term, focused high intensity ultrasound offers the prospect of using heat to destroy cancer cells. Philips has been working with The Royal Marsden Foundation Trust and the Institute of Cancer Research on this approach, which potentially offers an alternative to surgery and quicker recovery – and therefore cost savings through reduced length of stay. Research into its use with bone cancer patients is already underway.
Improvements in imaging technology and other innovations may mean purchasing new equipment which will need a strong business case for investment.
Dr Hall says clinicians have not always been good at showing the benefits of investment in the past but a combination of efficiency for the organisation and patient-centred benefits can be powerful in persuading boards. And he says working closely with clinicians can help companies produce technologies which deliver the benefits healthcare professionals are looking for.
Worthwhile investment
Cancer Research UK is keen to see proven new technologies made available to patients across the country. It points to some improvements being trialed and rolled out nationally, such as flexible sigmoidoscopy for bowel cancer screening.
In some cases new technologies may have higher initial costs than those they replace – or may be completely new and therefore an additional cost. But better outcomes and patient experience and compliance can make them worthwhile investments.
'It is important to look for opportunities for better care and savings across the whole patient pathway'
It is important to look for opportunities for better care and savings across the whole patient pathway, however – not just at what happens to patients in hospital.
Around half of cancer patients will have chemotherapy, usually as outpatients. Between appointments they will be at home, often worried about their illness and, when they return for the next chemotherapy treatment, around a fifth will be found not to be well enough to have the planned treatment.
That's a problem for the unit treating them - which will have allocated them a slot for treatment and possibly prepared the chemotherapy drugs. These may then have to be discarded.
One solution developed by Philips is remote monitoring of the patient's white blood cells at home. This can be done through a pinprick test with results sent on to the hospital through a tablet computer. This helps the oncology service intervene if there are signs the patient has caught an infection or will otherwise be too ill to receive chemotherapy - and avoids a wasted slot for treatment.
But it also offers patients reassurance that their health is being monitored between hospital appointments.
Incremental improvements like these - which both improve the patient's experience and offer greater efficiencies to healthcare providers - are likely to be vital in helping the health service cope with increasing numbers of new cancer cases.
Obesity – a risk factor for some cancers – and life expectancy are both increasing, which is likely to contribute to more cases. And with the UK lagging behind much of Europe on some cancer survival rates, improved and timely diagnosis and treatment will be a priority for patients and doctors alike.
The challenge, as ever, will be to increase capacity and efficiency without compromising quality.
Sybo Dijkstra on the cancer challenge
Figures from a recent World Health Organization report make grim reading, with cancer cases predicted to rise globally over the next two decades from 14m in 2012 to 25m new cases a year - a staggering rise of 70 per cent. One of the main reasons is the ageing and growing population. Despite better medical care and improved disease prevention many of us will still develop one or more chronic conditions as we live longer.
Added to this the Eurocare-5 study reveals Britain lags behind most of Europe on survival rates for cancers such as kidney, ovarian and colon, with the chances of survival for older people with certain cancers markedly worse. The report points to late diagnosis as one of the main reasons.
Innovation in technology alone cannot address the complex challenges that lie ahead. However, it certainly has a part to play. We are seeing the emergence of advanced digital imaging at low dose rates bringing with it a radical step change from analogue systems.
This, along with advanced techniques of processing these images, will facilitate much earlier detection and more accurate, confident diagnoses.
Less invasive treatments, such as magnetic resonance guided high intensity focused ultrasound, offer viable alternatives to surgery. Moreover, new models of care, from the hospital to the home, are helping to provide smooth transitions and care coordination, reduce unnecessary readmissions and enable patients to stay independent at home for longer.
Central to this has to be the patient and their family or social ecosystem. Understanding what matters to them and their lifestyle will be key if innovation is to be successful and make a real difference to their life, outcomes and experience. Hearing you have cancer is overwhelming, with complex information and decisions about treatment to be made soon after diagnosis.
Therefore, innovations to transform the clinical hospital setting - often stressful in itself - into a more soothing environment will help patients cope and digest the news. Similarly, web-based decision support tools have the potential to engage patients in new and better ways allowing them to play a more informed role in their therapy choices during this difficult time.
Clearly, adopting a more holistic approach across the complex landscape of cancer care and working collaboratively with healthcare partners and cross functional groups will be key in the innovation process. Technology will never replace the human touch but the opportunities are great.
Sybo Dijkstra is head of research at Philips UK and Ireland