Finalists
Hertfordshire Partnership University Foundation Trust - winner
Dementia Services Development Centre, University of Stirling
Mid Essex Hospital Services Trust
NHS Grampian
Hertfordshire Partnership University Foundation Trust: Astley Court assessment and treatment unit
The judges praised an impressive facility that brings together well thought-through design to improve the patient and staff environment. They also noted the increased efficiency through significant reduction to length of stay.
Astley Court at Little Plumstead Hospital, Norwich is a flexible, new 12-bed learning disability assessment and treatment unit, described by the Care Quality Commission registration officer as the the best unit of its type the inspector had ever seen.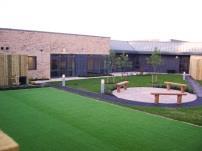 It was designed in close consultation with staff, service users and the construction team to ensure an optimum environment for those who temporarily live, and receive care, in it.
There are several innovative features that significantly improve the care - and the culture of care - including high support, low stimulus areas and the inner courtyard. Service users are typically very unwell, or experiencing mental health crisis, when admitted, with added complications of autism and learning disability. The use of colour, and the calming curve of many walls, provide a positive ambience.
Evidence shows that providing choice and control for patients improves clinical outcomes, recovery and speeds return to living in the community. This enables substantial savings in the overall cost of care, further boosting the project's efficiency.
From the outset, the building was designed with a focus on providing a therapeutic environment. This prioritised basic human requirements of privacy and dignity, access to natural light, ventilation and secure and freely available external space as well as a safe anti-ligature environment.
The success of this building is due to relationship developed and maintained throughout the project with service users, carers, staff, the architects, Dransfield Owens Design and the contractors Medicinq Simons.
Finalists
Dementia Services Development Centre, University of Stirling: Dementia-friendly virtual hospital
Mid Essex Hospital Services Trust: MEHT sustainable estate rationalisation
NHS Grampian: Foresterhill Heath Campus Energy Centre