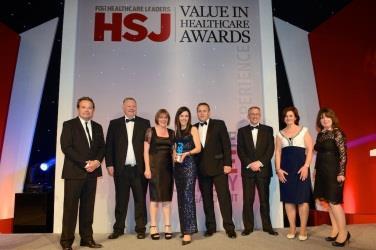 Finalists
County Durham and Darlington Foundation Trust - winner
Derby Hospitals Foundation Trust - highly commended
Liverpool Community Health Trust
Nottinghamshire Health and Social Care Community hosted by Mansfield and Ashfield Clinical Commissioning Group
South Staffordshire and Shropshire Healthcare Foundation Trust
South Tyneside Foundation Trust
University Hospital Southampton Foundation Trust
County Durham and Darlington Foundation Trust: Health call undernutrition service
The judges described this as an innovative, simple, sustainable and scalable project that addresses a common but difficult issue.
The Health Call Undernutrition Service is an automated telephone monitoring service for patients prescribed oral nutritional supplements. Patients receive a weekly automated phone call that is used to monitor weight, appetite and nutritional supplement compliance.


A patient representative was involved in the development stages of the script for the telephone call and all patient related resources. Clinical alerts were determined based on changes in recorded weight, risk of undernutrition, compliance with ONS or appetite. A dashboard was developed using a traffic light system to indicate the level of alert.
An alert was generated if there was a combination of changes, for example a high risk of undernutrition and red weight change and also if the patient failed to answer the ATC. Clinicians receive an emailed alert if any data is outside these parameters.
How to use the automated telephone calls is discussed with patients or carers before the calls start and they're provided with a guide giving details of the questions asked, the options available as responses and contact numbers for support. Within care homes it was important to identify who was going to be the lead person responsible for answering the calls.
Evaluation of the pilot identified some significant health benefits for patients accessing the service which often has a positive impact on the extended family.
One example of this is highlighted in a recent patient/family interview, a 91 year old gentleman named Eric cared for at home by his wife and daughters. When Eric's daughter was asked how she had found the 'Health Call pilot' she replied "Easy, and the best thing is - when the weight differs, up or down, I get a phone call. The dietician gives advice on how to make the nutritional drinks more interesting, the little things are very helpful!"
Finalists
Derby Hospitals Foundation Trust: Only a Skype away: innovating dialysis care and transforming patients' lives
Liverpool Community Health Trust: SALUTE - Speech and language therapy using technology effectively
Nottinghamshire Health and Social Care Community hosted by Mansfield and Ashfield Clinical Commissioning Group: Increasing patient self-management and compliance - Implementing Flo simple telehealth
South Staffordshire and Shropshire Healthcare Foundation Trust: Introducing assistive technology to inpatient services to improve NHS mental health service delivery
South Tyneside Foundation Trust: Introduction and expansion of telehealth
University Hospital Southampton Foundation Trust: Remote community pacemaker follow up