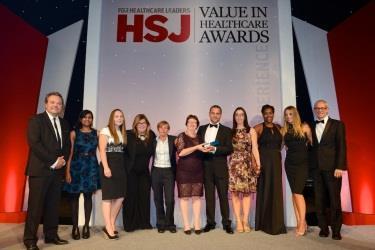 Finalists
Nottingham CityCare Partnership - winner
East of England Ambulance Service Trust
Health Education England and Mid Cheshire Hospitals Foundation Trust
Health Education England and University Hospital of South Manchester Foundation Trust
Health Education England and Royal Berkshire Foundation Trust
Plymouth Hospitals Trust
The Royal Wolverhampton Hospitals Trust
University Hospital Southampton Foundation Trust
University Hospitals Coventry and Warwickshire Trust
Nottingham CityCare Partnership: Holistic worker model
The judges observed that the project dealt with the fundamental direction in which the NHS is going – providing integrated care across organisational boundaries.
Nottingham CityCare Partnership is a social enterprise delivering community healthcare in the city.
Nottingham's older population suffering from long term conditions is expected to grow significantly over coming years, so CityCare has introduced a new approach to working which will change the way care is delivered to older people and will provide tangible social benefits.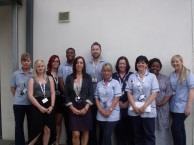 It is a more holistic approach to meeting individual patient needs - rather than the patient being seen by a multitude of separate independent health and social care workers they will be seen by a member of the team who can help them on more than one level.
The new model of working is known as holistic practice and it is used within CityCare's Crisis Response Team. Qualified nurses, social workers, occupational therapists and physiotherapists are all trained in each other's disciplines up to the level of a general assistant practitioner.
In practice it means, for example, a nurse can undertake a full nursing assessment during a visit and, while there, sort out basic occupational therapy issues such as equipment to get in and out of bed.
Team members delivered the training and each professional assessed their colleagues' competence to practice core skills within his/her own discipline.
All staff agree that their confidence levels have improved since being practically equipped to manage unexpected situations. Each staff member now has a deeper understanding of each others' profession and this had led to a better service for the patient.
The main aim of the project was improved outcomes for patients, but part of the result has been the release of resources. With the holistic practice model, more can be done in a single visit and less time is taken in referring between disciplines. As a result, there has been integration of workforce planning with financial and service planning. The holistic care model has in essence created holistic practitioners across health and social care.
Judges said the project dealt with a big issue in a relatively simple way, and broke down barriers between professions.
Finalists
East of England Ambulance Service Trust: Cutting conveyances - Training paramedics in wound closure
Health Education England and Mid Cheshire Hospitals Foundation Trust: Enhancing training and education in handover and a supporting electronic solution
Health Education England and University Hospital of South Manchester Foundation Trust: Increasing learning and training opportunities for core surgical trainees by creating dedicated 'Better training better care lists'
Health Education England and Royal Berkshire Foundation Trust: Addressing the apparent gap between learning opportunities from every day recognised problems by 'Making every moment count'
Plymouth Hospitals Trust: Competent staff in the "right place at the right time"
The Royal Wolverhampton Hospitals Trust: Value and improvement in training and development
University Hospital Southampton Foundation Trust: Embedding a complete education technology system
University Hospitals Coventry and Warwickshire Trust: Avoiding grey Wednesdays: Trainee-led value