Paul Wilkins explores the scope of digital technology in helping to protect the human rights of the most vulnerable in society

This is paid-for content from our commercial partners. Find out more
The covid-19 pandemic has taught us all so many different lessons but the importance of and our right to freedom of movement and exercising personal choice must be high on most people's lists.
Sponsored by
Over the last months these rights have come into sharp focus with governments across the world having to clamp down on our liberty and choices. What is not so widely acknowledged is that these fundamental rights have, for a long time, been restricted by many healthcare providers.
Given the pressures and demand on health providers this failing is, to some extent, understandable but the Care Quality Commission and courts have made it clear that this is not a valid excuse for not complying with legislation. Clear leadership is required to ensure that widespread unlawful practice is urgently addressed.
The Human Rights Act and Mental Capacity Act define our duties to all patients and yet often we are failing to protect the rights of the most vulnerable. The MCA creates a legal duty for all to be supported to make their own decisions about their treatment and care, and for those who cannot decide for themselves a clear framework is defined in law.
Put simply the MCA requires all health and social care providers to:
1. Prove and document the evidence that a person lacks capacity to make a particular decision.
2. Apply, comply with and provide documentary evidence that the decision made on behalf of the patient meets with the statutory Best Interest Checklist.
The 2018-19 CQC State of Health Care and Social Care report found, "The level of understanding has remained concerning and we have found that it can result in poor practice. We have continued to see providers that do not understand the wider legal principles of the MCA."
The CQC also commented in their report that, "We have encountered senior managers who do not understand the legislation and providers who see DoLS as procedural or 'box-ticking', with little thought given to how the legislation could be used to properly protect people."
Baseline surveys have shown that whilst the majority of survey respondents rated themselves as having good knowledge of the MCA, only 40 per cent of respondents were confident in their ability to perform a capacity assessment
The CQC highlighted the importance of "clear and committed leadership" to help staff engage better with the legislation and to reset our commitment to the rights of patients.
Helping services to achieve this aim has been the main focus at Desuto. We have conducted a number of surveys of managers, team leaders and nurses to establish levels of understanding, confidence and ability in meeting the requirements of the act.
Our survey results echo the concerns of the CQC showing that levels of confidence, understanding and particularly application of the act remain poor in many areas.
Our results also point to measurable improvements that can be achieved through the introduction of decision support technology.
Baseline surveys have shown that whilst the majority of survey respondents rated themselves as having good knowledge of the MCA, only 40 per cent of respondents were confident in their ability to perform a capacity assessment suggesting that good knowledge of the act and by implication, training, does not necessarily transfer into practice.
Given that application of the MCA is a measure of effectiveness reported on by the CQC, levels of readiness for inspection were low with only 54 per cent of respondents saying that they could provide the CQC with evidence of good practice in the event of an inspection.
Decision support tools
The introduction of interactive decision support tools was shown to have a significant impact on these and other scores in later surveys. All respondents reported that following use of the tools they felt confident in their ability to complete capacity assessments.
They also said that the tools had helped them to complete more reliable and accurate reports in less time and that records contained evidence of their decision making ready for inspection. The recent crisis has served as a reminder of how much we should value our right to liberty and should prompt us all to reconsider our own commitment to the protection of this right for those who depend on our services.
The MCA defines our duty to do so and yet 13 years after the act came into force, its application remains an area of concern. The employment of decision support technology can bring about significant improvement in our understanding of and compliance with the act whilst saving staff time to do what they do best.
For more information on the survey results click here.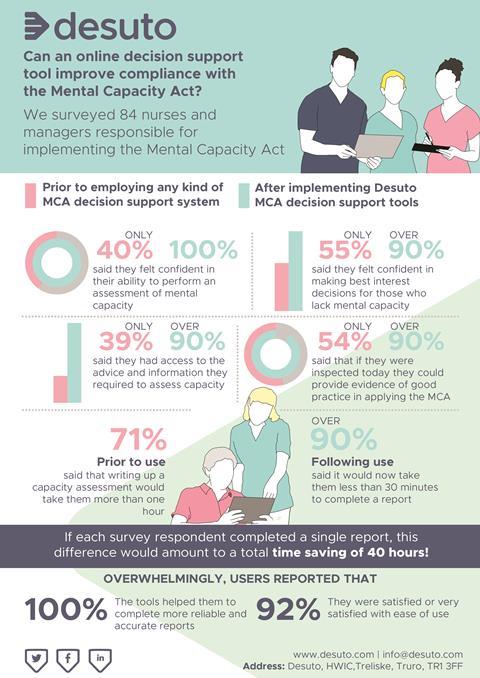 Paul Wilkins is chief operating officer, Desuto.