Many aspects of healthcare have gone digital and there is no reason for community care to be exempt. Jonathan Richardson and colleagues explain how a mobile technology solution was found to improve community care for both staff and patients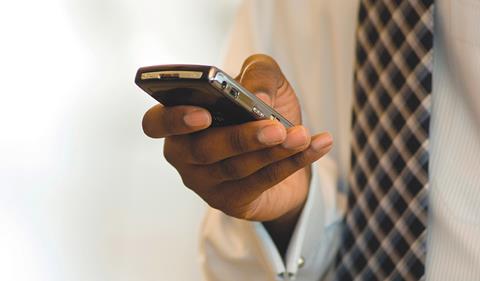 To improve the usability and scalability of the system, the simplest form of technology was chosen in the form of text messaging using the patient's own mobile phone
The NHS spends £11bn every year on community services – so said the Department of Health in 2011 – and there is an increasing focus on delivering healthcare to patients in their homes or community.
The community supports the patient's social inclusion, reduces transition between services, builds the patient's and carer's resilience and coping skills, and supports patient choice.
'Inadequate information can slow down, delay and, at its worst, increase the risk of errors in a patient's care'
Good clinical decision making is key to community working.
Mental health team members, for example, need to be well informed at all times to enable them to manage the risks associated with mental health, such as self harm; effective communication can prevent admission and facilitate early discharge from hospital.
It is clear to see, then, how good clinical decision making requires timely access to, and entry of, clinical records across a number of settings. Implementing electronic patient records, combined with mobile working, is imperative. The staff using these systems can teach us a lot about how to do this effectively.
Inadequate or inaccessible information from patient to professional or from professional to professional can slow, delay and, at its worst, increase the risk of errors in a patient's care. The digitalisation of the health record has been viewed as one key enabler to transform services.
Digital services
Since 2007 more than 4,000 staff at Northumberland, Tyne and Wear Foundation Trust have been trained to use electronic patient records. As with any large scale system implementation, and with increasing numbers of users, several issues with the system have been identified by staff.
'Staff and service user engagement is now an integral part of any continuous improvement work'
As staff engagement was one of the main components in ensuring the record was fit for purpose, a rapid process improvement workshop and a lean methodology for continuous improvement was used to review the core documentation. Involving more than 80 clinicians over a period of a week, this enabled a set of core documentation to be developed to be used across the trust, regardless of age or speciality. It includes guidance on recording assessments, review, risk assessments, care plans and care coordination.
The workshop included a number of focus groups, with service users and carer representatives, local authority colleagues and GPs.
There is ongoing work to refine both this documentation and the record in line with changing clinical, as well as service delivery, needs. Staff and service user engagement is now an integral part of any continuous improvement work.
Five considerations
When looking to implement mobile working, it is important to consider the following:
Strong leadership is required at a central and local level, with a robust engagement strategy to support the successful implementation of mobile technology within the organisation. The expectations for staff and managers need to be explicit, and they need to understand how all the different elements of the transformation agenda fit together. There needs to be an ongoing dialogue and engagement that actively seeks to understand the viewpoint of the staff, while recognising and managing the emotions of change.
Systems of management, clinical support and communication need to be reviewed, and new systems developed and implemented to assist with the transition to mobile working. As we move away from face to face meetings, we need to think about how we support staff through virtual networks to avoid them feeling isolated and unsupported.
Organisations need to decide what equipment is required for which staff; they will also need to have a strong rationale to explain the reasoning for the equipment, ensuring that staff feel they have the right equipment to do the job. This needs to be an evolving process of constantly assessing and testing new technology. The rationale for one clinician having a particular model while another does not needs to be clearly explained as it can lead to dissatisfaction.
The training for digital dictation needs to take into account the level of anxiety staff feel when dictating. This may be a very new skill for a number of staff and some may feel very self-conscious initially.
The psychosocial relationship between clinical staff and mobile technology, and its impact on how those staff members perceive themselves as professionals within a wider organisational culture, needs to be understood further.
Mobile working
Mobilising the workforce aims to achieve the seemingly impossible: improving quality while reducing costs.
Even with the implementation of an electronic patient record, staff working in the community still had to return to base to access a PC in order to update clinical records.
The trust's informatics department worked with clinical staff 18 months ago and trialled a mobile solution based on a system used by trust managers.
'The solution reduces travel time and improves timeliness of record entries'
Feedback from clinical staff was poor.
The solution did not work in a clinical setting where there was multiple usage patterns but there was relatively brief access during the day to add and update to a record. The connection and log on process took longer than updating the record, which negated the benefit.
What was needed was secure equipment that would behave the same, whether connecting from a trust wifi enabled site or over 3G, making frequent logging on quick and convenient.
Achieving this required collaboration across informatics staff, clinicians and mobile carriers, while working within the NHS procurement frameworks.
The solution is secure and seamless for staff, while offering them speed and usability. It reduces travel time and improves the timeliness of clinical record entries and access.
The solution took around 18 months from concept to being set live. Continuously being improved, the third iteration is in the design phase.
It uses private APN gateways to form a secure and direct connection between the laptop and the trust network via the mobile carrier rather than the usual standard 3G network connection which connects a laptop to the internet and requires a user to establish a VPN connection to the network to access secure resources.
The end user does not have to manually establish a VPN connection and can just log on as they normally would when on trust premises. This removes the need for the clinician to choose their access method and log on in different ways depending on location. As a result, it also speeds up the logon process which is especially helpful for staff who are accessing systems frequently during the day from different locations.
Qualitative evaluation
The roll-out of 3G enabled laptops was the basis for a qualitative study that aimed to explore what it was like for community nurses to use mobile technology – both 3G enabled laptops and digital dictation via BlackBerry – in day to day clinical use.
Prior to this study, quantitative measures had been used to evaluate the use of mobile technology and the impact on individuals had not been looked at in detail. This study, therefore, aimed to provide an in-depth understanding of the experience of using mobile technology from a community nurse perspective.
'Nurses are now working in a more flexible way, using alternative places to work'
Seven participants took part in semi-structured interviews; this focused on their feelings about mobile technology and its impact on them from clinical, personal, leadership and change perspectives.
Interviews were transcribed and analysed using interpretative phenomenological analysis, an approach that looks at how people make sense of their experiences and the meanings they attach to them.
Analysis of the interviews suggested four main themes and 13 sub-themes:
change – capacity, mobile/remote workers, patient care;
ways of working;
sense of self – confidence, personal value, stress; and
working life – work-life balance, relationships, management, listening, engagement, expectations, encouragement/coercion.
Full potential
The study identified that the community nurses did not recognise themselves as "remote/mobile" workers. However, they are now working in a more flexible way, using alternative places to work, and there is less reliance on the team base to enter patient notes.
The nurses are benefiting from the technology, saving time entering notes, and have easier access to computers. However, they have not significantly embraced the remote facility and changed their clinical practice.
'The study identified a need for a change in the cultural expectations of how staff and managers are expected to work'
The clinical and personal perspectives of the participants reveal similar themes to previous research, identifying that remote technology is not being used to its full potential. There was some evidence that the quality of patient care has improved, but this was attributed to participants having lower stress levels.
The impact of the technology on reducing participants' stress was noted by all, with a significant impact on their levels of anxiety both within and outside of work. Reduction in stress supports national guidance on ensuring healthy, safe working practices for staff and good quality care.
The impact of the mobile technology on individuals and their relationships with the equipment was surprising and may directly link with the reported decrease in stress. The resulting impact of the mobile technology on self-esteem and personal identity should not be underestimated and has not been previously recognised in the literature.
Digital dictation had more impact on the participants than the laptops on their own, and provoked an initial level of anxiety around dictation. Ensuring staff get the right equipment for the job is crucial in driving change forward.
The study identified a need for a change in the cultural expectations of how staff and managers are expected to work. Evaluation of the results identified five aspects that should be considered from a staff perspective when looking to implement mobile working (see box, above).
Dr Jonathan Richardson is group medical director of planned care; Darren McKenna is director of informatics; and Caroline Wills is allied health professions lead at Northumberland, Tyne and Wear Foundation Trust