The use of Twitter turned one doctor's 'tiny idea' into a national campaign for compassionate care which is now being backed by nearly 30 NHS trusts. Jennifer Trueland explains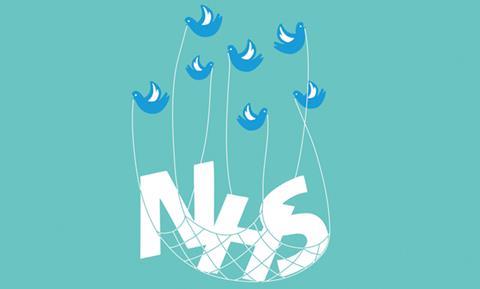 When Kate Granger had a "tiny idea" to encourage healthcare professionals to introduce themselves to patients, she had no idea that it would take off in such a big way.
Yet the #HelloMyNameIs campaign has now spread throughout NHS organisations across England and beyond, and has been hailed as both a foundation stone and driver of compassionate care.
According to Dr Granger, an acting consultant in geriatric medicine at Mid Yorkshire Hospitals Trust who has terminal cancer, the campaign could not have happened without social media.
'Most of our collaborative launch across 30 NHS trusts has been organised with social media'
"#HelloMyNameIs is essentially a social media based campaign," she says.
"Twitter has been central to spreading the core values of the campaign across the NHS and different professional groups.
"Many people have got in touch using social media channels to invite me to speak at various events. We are having a collaborative launch of nearly 30 NHS trusts in February through the Listening into Action network – most of this has been organised with social media."
Challenge Top-Down Change
It's good to talk
This is a concrete example of how social media is being used to drive change in the NHS. It came about when Dr Granger was herself in hospital and found that many members of staff did not introduce themselves to patients before delivering care.
This, she says, "felt very wrong", but rather than complain, she and her husband took to Twitter with the positive suggestion that staff should take a few moments to talk to their patients; the idea very quickly took hold.
"Without social media I don't think there would be a campaign," she says. "The reach of Twitter is awesome – #HelloMyNameIs as a concept and driver to promote person centred compassionate care has spread globally because of Twitter."
Social change
Just a few years ago it would have been impossible to imagine that a social media platform such as Twitter would form such an important part of the working lives of so many health service staff.
For a start, the technology itself is relatively recent – the site was launched in 2006 (two years after Facebook). And it is arguably only with the proliferation of devices such as smartphones and tablets that it has really taken off.
It would also be inaccurate to say that it has been embraced by everyone: for every Twitter enthusiast in the higher echelons of the health service, there will probably be a "refuser" or reluctant user.
'Social media exists and must be part of the life of large organisations, including NHS organisations'
Damian Roland falls in the first camp. A consultant and honorary senior lecturer in paediatric emergency medicine at University Hospitals of Leicester Trust, he is a keen user of social media channels, including Twitter.
But that is not to say he thinks it is the be all the end all. "The problem is that when something becomes established, people can become zealots on it," he says.
"But you don't have to be on Twitter – you're not a lesser or a better person if you are. I do think, however, that social media exists and must be part of the life of large organisations, including NHS organisations."
It was Twitter that helped to spark the social movement that is NHS Change Day. The project started with a Twitter conversation between Dr Roland (then a junior doctor), Stuart Sutton (then a GP trainee), and Helen Bevan (chief transformation officer of NHS Improving Quality). A variety of social media channels were used to get it off the ground and develop.
Strategy for success
According to Joe McCrea, social media strategist for Change Day, the success of the event came from the adoption of a distinctive communitarian strategy, using the widest possible range of social media channels and tools, not just to "tell" people what was going on, but to listen, support, respond and facilitate.
In 2013, Change Day used four social media platforms: Twitter, Facebook, YouTube and Podbean. More than a third of participants in that Change Day first heard about it through social media.
In an article penned for NHS England's website, he said that for Change Day 2014 they "used social media to give frontline staff, carers, patients and families their voice and their space to interact with each other and inform each other".
Last year the number of platforms was expanded to include sites such as Pinterest, Instagram, WhatsApp and Vimeo.
'More than a third of participants in that NHS Change Day first heard about it through social media'
Some of the very impressive results include more than 32,000 video views across a number of channels, a 95,000 daily reach on Facebook, and more than 1.3 million Twitter impressions a day at the height of the campaign.
But would NHS Change Day have happened without social media?
"Twitter was a mechanism for Helen to ask Stuart a question," says Dr Roland. However, he readily admits that other, more traditional communication forms, such as email, the telephone or (shock) talking to each other in person, could have been employed to get the ball rolling.
For some people social media is seen as a way of cutting through hierarchies: it is a way that the lowliest student or most junior member of staff can engage directly with those at the top of the professional or management tree – or so the theory goes.
This can be a welcome eye opener for senior people, if they are truly willing to engage. "Twitter does allow people to approach senior people directly," says Dr Roland.
"But as time goes on, the novelty can wear off. Clare Gerada, immediate past chair of the Royal College of GPs was and is a massive user of Twitter, and she really gained from it; other college presidents chose not to do it."
Everybody counts: a programme for change
If you visit University Hospitals of Leicester's children's emergency unit, the chances are that you'll smile or groan – or maybe a combination of both.
On the walls is a selection of jokes - some old, some cheesy, some quite funny - but all provided by children attending the unit.
The initiative came from the trust's play specialists, who set up a system to ask children to put jokes in a rudimentary "joke box" while they waited for treatment.
According to senior play specialist Mariam James, speaking in a video about the project, the children are particularly impressed when they see the jokes have been displayed on the walls; it helps make them feel at ease in their surroundings.
The project came about as part of a change programme instigated at the trust to encourage staff to share the things they are doing to improve the care and experience of patients.
The Everybody Counts campaign encourages staff to make short videos about positive steps they are taking, such as a multidisciplinary 'huddle" in the emergency department where staff take time out, when required, to take stock of patients and make sure everyone is up to speed.
According to Damian Roland, one of the instigators of NHS Change Day and a consultant in paediatric emergency medicine at the trust, Everybody Counts is working well.
"There have been around 100 videos of people saying what they are doing, including the chief executive, nurses, doctors, play therapists and patients – everyone is involved," he says.
"It's about getting away from top-down hierarchies; everybody has a part to play in improving care."
These are just "little videos", he says, but they show how individuals and teams throughout the trust are taking action to tackle challenges along the emergency pathway and elsewhere.
Could it happen in the same way without social media? Although the technology to make videos has been around for a long time, social media has facilitated the process by making it much easier to share the resulting footage, says Dr Roland.
Social media has also been used to spread the message and encourage people both to view the videos and to consider taking part.
The leveller
David Foord, director of quality and safety and nurse member of Luton Clinical Commissioning Group, is a prolific tweeter and a great fan of the medium and appreciates its potential as a "leveller" of hierarchies.
The key word here is "potential". "Some people apply their real world hierarchies on Twitter," he says ruefully.
"They only engage with the sort of people they would approach and talk to at a conference, for example, with people on their 'level'."
However, he points to other senior figures who use social media to engage at all levels, singling out Viv Bennett, director of nursing at the Department of Health and Public Health England, as a nurse leader who uses Twitter to engage with nurses at all stages of their career, as well as others.
Mr Foord was a relatively early adopter of Twitter, joining in February 2009. At first, he says, he was interested in following ex-rugby players like himself, but he quickly became aware of the opportunities it offered healthcare, and those working in the NHS.
Shortlisted in the Nursing Times Nurse Tweeter of the Year awards for 2014, he tweets on a mixture of subjects including his thought for the day, for example: "Whenever you find yourself on the side of the majority, it is time to pause and reflect," attributed to Mark Twain.
Mr Foord became interested in how the health service could use social media to engage better with patients and service users.
This, he believes, requires a more imaginative approach than simply relying on putting out messages from a corporate Twitter account. Instead, his CCG is trying to improve its reach by linking up with organisations that have their own following.
"The idea is that we'll get a better spread working with local groups," he says. These include places like sports centres and community groups, but also active charities like Age UK.
He believes that social media is becoming embedded in the health service, as it is in society more widely, and that many people who think they do not use it, actually do by taking part in chat rooms, or intranet discussions within different organisations.
Growing appetite
This feeling was backed by a report issued in December by Joe McCrea, in association with NHS Providers.
The First Comprehensive Analysis of Social Media in the NHS, On the Brink of SoMething Special? [sic] makes it clear that the appetite for social media is growing.
This, says NHS Providers chief executive Chris Hopson in the introduction, is "part and parcel of the changes and innovation our members are leading across health and social care".
He continued: "It is clear that social media is an essential part of effective dialogue and knowledge sharing by the NHS and its patients and stakeholders, its staff and communities, and that NHS providers are seizing the opportunities it offers."
'Social media is an essential part of effective dialogue and knowledge sharing by the NHS, its patients and stakeholders'
There are, of course, a number of well known NHS or healthcare related groups using social media, some, such as @WeNurses; @WeCommissioners and @WeMidwives, which have essentially grown from the grassroots. But what are they actually doing in terms of change?
Vanessa Garrity, cofounder of New Health and Care Voices, says that while that initiative was not set up with specific outcomes in mind, it is actually proving a catalyst and instigator of disruptive change.
"It's about the potential of disruption, cutting across hierarchies and geographical boundaries, and having conversations with people you wouldn't normally come across," she says.
Getting connected
The events organised by the group have been over-subscribed and attract top leaders as speakers, she says, because of a recognition that they are encouraging a culture of values based possibility and opportunity. "I don't think it's possible that we could make the connections we have without social media," she adds.
'To think that all this has come from a tiny idea, which has grown and grown, is unbelievable'
Back in Yorkshire, Dr Granger – who was awarded an MBE in the New Year's Honours list – is happy and proud that #HelloMyNameIs has become part of the identity and practice of so many healthcare professionals.
"I hope the campaign has a positive message and impact," she says.
"I'm determined that my own narrative is going to leave a positive legacy long after I've died. I feel extremely proud when I see other healthcare staff or students using my idea in their daily work to improve patient experience. To think that all this has come from a tiny idea, which has grown and grown, is unbelievable."