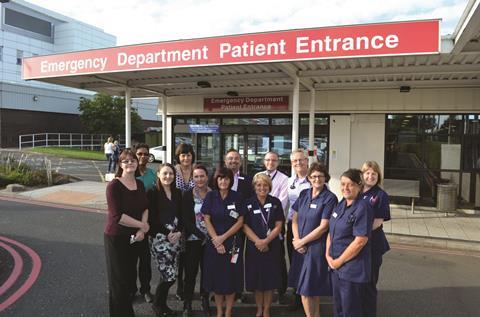 HSJ Awards 2015: The Dudley Group Foundation Trust

The Dudley Group Foundation Trust – ED performance
More than 700 breaches of the four-hour target to see, treat, admit or discharge emergency department patients occurred at The Dudley Group Foundation Trust in May 2014.
This was cut dramatically to just 96 breaches in the same month this year after the trust redesigned its service.
The success came after staff were told to forget about hitting the target itself – and to concentrate on delivering high quality patient care in a calm, safe way.
According to the trust, wards no longer see poor patient flow from the emergency department as the emergency department's problem – instead they take responsibility for patients destined for their ward even if they were located elsewhere.
Staff work at a constant pressure that creates calmness and better decision making, rather than experiencing peaks and troughs.
Discharging patients as soon as they are medically fit has become a major focus, reducing length of stay.
Senior meetings are held four times a day to review existing and forecast bed capacity against predictions and to agree actions to keep patients moving through their clinical pathway.
Judges were wowed by the "transformational turnaround" brought about by a "whole trust effort".
Finalists
Highly commended: Portsmouth Hospitals Trust, Southern Health Foundation Trust and Solent Trust - Diabetes super six model: five-year outcomes of integration
ChYPS Crisis Home Treatment Service - The new Crisis Home Treatment team for children and young people in Kent
Hounslow and Richmond Community Healthcare Trust - Integrated community response service
King's College Hospital Foundation Trust - Paediatric Ambulatory Care Service redesign
Mid Essex Clinical Commissioning Group, Essex County Council, 7 GP practices, Mid Essex Hospitals Services Trust, Provide CIC, North Essex Mental Health Partnership, Essex Cares, Age UK, Red Cross and Community Agents - Permissioning not commissioning
Northumbria Healthcare Foundation Trust - North Tyneside end-of-life care programme
Pennine Acute Hospitals Trust - Improving safety and quality in primary care: crisis response pilot, North Manchester
York St John University with Leeds and York Partnership Foundation Trust - Converge and the discovery hub