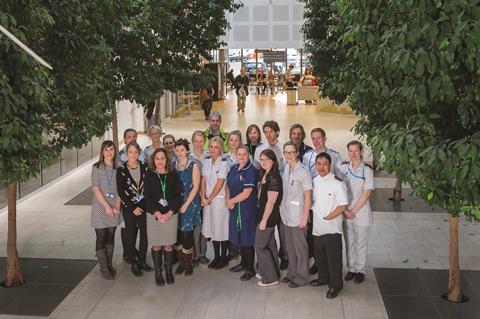 University Hospitals Bristol Foundation Trust – Green Impact plus
The size of the Green Impact Awards scheme run by University Hospitals Bristol Foundation Trust has doubled since January 2014.
There were 70 registered green teams across the trust's hospitals when it submitted its awards entry, twice the number at the start of last year.
These teams completed a total of 498 set actions in 2014-15, all of which work towards improving the trust's environmental, social and financial sustainability.
The online Green Impact workbook, which teams work through in order to qualify for prizes, helps staff realise their crucial role in the trust's sustainable development.
Actions include carbon cutting, reuse of items before buying new, and development of community engagement initiatives.
A "TLC" campaign, run through Green Impact, helps to highlight to patients and staff the link between green actions and enhanced patient experience.
Monthly Big Green Scheme meetings are chaired by the director of strategy and transformation, who updates the board.
The trust also regularly invites not-for-profit groups to come to site to promote their projects, and plays a role in the Bristol Green Capital Partnership.
Judges said the trust had demonstrated that sustainability was "about health and wellbeing". They praised the use of city-wide partnership working.
Finalists
Highly Commended: British Medical Association – Healthier procurement: improving the working conditions for surgical instrument manufacture in Pakistan
Highly Commended: Central Manchester University Hospitals Foundation Trust – Step change in sustainability at CMFT
Barts Health Trust – 20:20 a clear vision for sustainable health
East and North Hertfordshire Trust – Sustainability: the story so far
Mid Essex Hospital Services Trust – Making a difference to secure our future: sustainability at MEHT
North East Ambulance Service Foundation Trust – The NEAS carbon reduction journey: the story so far
Northampton General Hospital Trust – Empowering NGH to improve sustainability
Sussex Community Trust in partnership with Capita Health Partners – Care without carbon
The Shrewsbury and Telford Hospital Trust – Healthcare with a kind touch and a small footprint
United Lincolnshire Hospitals Trust – Team sustainability: incorporating the 90k in 90 days challenge: a system wide approach to sustainability