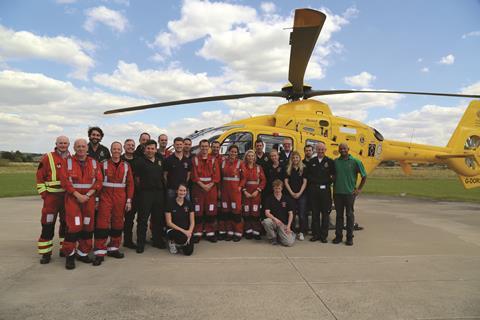 Hsj Awards 2015: Dorset and Somerset Air Ambulance
Dorset and Somerset Air Ambulance – From education to clinical excellence: a chain reaction
This Dorset and Somerset Air Ambulance funded post graduate programme, run in partnership with the University of Hertfordshire, the South Western Ambulance Service Foundation Trust and representatives from local hospitals, has improved paramedics' knowledge and skills.
Training is delivered on-site at the charity's airbase rather than in the university classroom. It aims to increase paramedics' patient assessment skills, widen their knowledge of drugs, improve their diagnostic abilities, advance their management of pain and help them make better clinical decisions.
A group of eight paramedics and eight doctors deliver the training both at the airbase, on the helicopter and within their own trusts.
Eighteen months of collaboration has been recorded in detail on a shared learning database called Basecamp, which contains all the lectures, articles, education and competencies that have been achieved.
A new tier of paramedic has been established within the South Western Ambulance Service Foundation Trust: critical care paramedic.
The body said the biggest impact was the increase in land crew requests for the air ambulance – as they knew the clinicians now had additional skills and expertise.
Judges praised the collaboration and said stakeholder involvement was a critical factor in the success of this scheme.
Finalists
Highly Commended: Oxford Health Foundation Trust – Advancing suicide awareness in mental health and community health services
Abertawe Bro Morgannwg Health Board – Dementia care in ABMU: education into action
Baby Lifeline – The NHS Litigation Authority: Ten years of maternity claims report Birth UK Training
Homerton University Hospital Foundation Trust – Moving from reactive to proactive patient safety training: making learning a normal part of the working day
NHS Improving Quality with Jönköping Academy for Improvement of Health and Welfare, Jönköping University and Qulturum, Region Jönköping, Sweden – Piloting the FUNdamentals of health and care improvement and improvement science MOOC
Royal Berkshire Foundation Trust – The introduction of a trust-wide multi-professional 'human factors and safety in healthcare' course
Sheffield Teaching Hospitals Foundation Trust – The career elevator
University Hospitals Birmingham Foundation Trust – Respecting the skin, reducing the harm
University of Southampton Faculty of Health Sciences – Your choice: an interactive clickers theatre
West Midlands Ambulance Service Foundation Trust and Coventry University – Engaging leaders