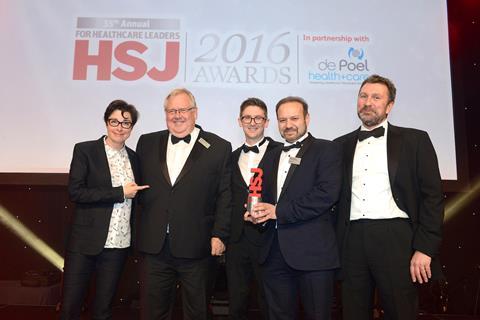 Invatech Health - Transforming medicines management in care homes
Invatech Health worked with Beacon Digital to create an electronic system for managing medicines in care homes; and evaluated it in partnership with Cardiff University.
The system led to a reduction in medicines returned to pharmacies and a drop in overstocks at care homes, with an estimated potential saving across Wales of up to £4.6 million per year.
Judges said the system had "transformed" medicines management in care homes and had "real potential" for wider application.
Read a detailed case study about this project at HSJ Solutions
Finalists:
Care UK - Care UK Practice Assist
Cloud2 - How GPs in South London Slashed Unnecessary Hospital Referrals
Four Seasons Health Care - Development and Use of a Comprehensive Resident- Centric Care Audit System
Royal Surrey County Hospital - Project Transform
South West London Pathology - Creating an Integrated Pathology Service
Surrey and Borders Partnership Foundation Trust (Highly commended) - Safe Mobile Device Charging on Mental Health Wards
University Hospital Southampton Foundation Trust - Prostate Cancer - My Medical Record
Zilico - Adoption of ZedScan into Routine Colposcopic Use