Six people have been honoured with a special HSJ Award for NHS staff from the EU.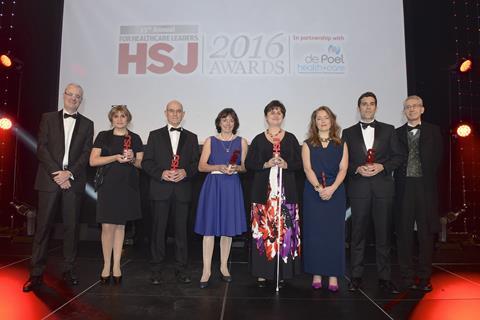 The HSJ EU Staff Award, sponsored by NHS Employers, was launched in the wake of the referendum on 23 June to recognise the contribution that workers from around the European Union make to the NHS.
In a break from HSJ Awards tradition, all six people on the shortlist were named as winners. They are:
Jaime Puente, a staff grade doctor at the Royal Devon and Exeter Hospital, was rewarded for his work ethic and upbeat manner as well as his skills.
Luminita Georgescu, a specialist biomedical scientist in immunology at Royal Bournemouth and Christchurch Hospitals Foundation Trust, was nominated for tireless innovative thinking and morale-boosting enthusiasm.
Eibhlin Collins, a practice nurse at Camden Health Improvement Practice, is said to have made a major impact on the health of homeless people with her compassion and skill.
Maggie Galbarczyk, a psychological wellbeing practitioner at the Black Country Partnership Foundation Trust, was praised for her knowledge, skill, sparkle and drive, and for not being held back by her blindness.
Francesco Muntini, a consultant paediatric neurologist at Great Ormond Street Hospital, was described as a leading light who has developed pioneering treatments for children with complex conditions.
Claudine De Munter, paediatric intensive care consultant at St Mary's Hospital in London, drove simulation care using baby simulators and has been described as a great teacher and innovator.
Presenting the award, HSJ editor Alastair McLellan told the audience in London: "The league of nations that constitutes the NHS workforce is one of its strengths, yet a set of circumstances had arisen in which NHS staff saw friends and colleagues – many who had given years of service to the NHS – begin to feel unwelcome and uncertain; strangers in a land many had learned to call home.
"We wanted to do our bit to combat this tide of negativity towards NHS staff from EU countries; to celebrate their role in the service."
He added: "The NHS has always relied on people from around the world to help it deliver for its patients and even accounting for planned welcome increases in home grown staff, it always will."
The award was the first presented at the 2016 HSJ Awards, held in London on Wednesday. The HSJ Awards recognise the finest achievements in the NHS and showcases them to the service's most influential leaders, across 24 categories.
Follow #HSJAwards for more updates from the event.