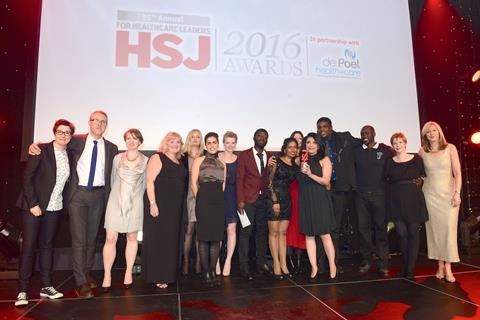 Barnet, Enfield and Haringey Mental Health Trust - Project Future
The youth-led Project Future scheme sees men aged 16 to 25 who have been involved in gangs and violence in Haringey lead activities to promote physical and psychological wellness.
An assessment showed a significant reduction in the severity of mental health problems in a core group of young people over the period of a few months.
Judges hailed a "fabulous, integrated approach across geographies and agencies".
Read a detailed case study about this project at HSJ Solutions
Finalists:
Barnet, Enfield and Haringay Mental Health Trust - Enablement – Helping People Have a Life Beyond Diagnosis
Barts Health Trust - Engaging for a Sustainable Future
Dartford and Gravesham Trust - Green Watch Project
Mid Essex Hospital Services Trust - Natural Health Service Project - Managing our Estate and Natural Woodlands, Providing Enhanced Environment to Improve Patient Care
NHS Halton CCG, Wellbeing Enterprises CIC and UnLtd - Lead the Change
Royal Liverpool and Broadgreen University Hospitals Trust - New Royal Sustainable Communities Programme
Sheffield Teaching Hospitals Foundation Trust - Replacement of Steam Distribution Network at the Northern General Hospital
University Hospitals of North Midlands Trust (Highly commended) - Community Energy Solar PV Scheme and Food for Life Gold