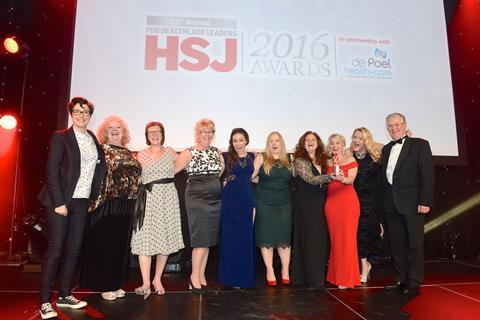 Aneurin Bevan University Health Board - Living Well Living Longer Programme
People were invited on geographical and clinical grounds to attend 45-minute appointments to assess their risk of developing cardiovascular disease.
More than 4,000 citizens have attended, and referrals have been made to exercise, smoking cessation and weight management bodies among others. These service providers helped identify and develop key skills in assessment staff, who can make brief interventions.
Judges praised the "remarkable work targeting high risk citizens in the heart of deprived communities".
Read a detailed case study about this project at HSJ Solutions
Finalists:
Care Homes Assessment Team (Highly commended) - Care Homes Assessment Team (CHAT) Improving the Lives and Deaths of Residents in Care Homes through Learning and Development
Evelina Children's Hospital London - South Thames Retrieval Service (STRS): Education and Networking to Improve Children's Lives
Great Ormond Street Hospital for Children Foundation Trust and Common Room Consulting - Me First Project
Health Education England - Team Up: A Ground-Breaking Approach to Enhancing Multi-Professional Healthcare Education through Volunteering
NHS Brent CCG - Co-designing an NHS Staff Training Package with Patients for the Accessible Information Standard
NHS Leadership Academy - Improving Outcomes through Learning and Development
NHS Trafford CCG - Primary Care Education and Training in Trafford
NHS Wales Shared Services Partnership - One Wales One Workforce'
The Royal College of Paediatrics and Child Health - Meds IQ