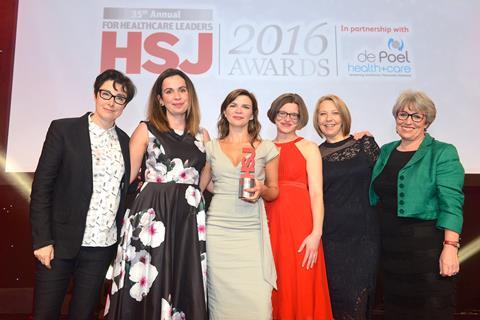 Humber Foundation Trust - Yorkshire and Humber Veterans Outreach Service
This service provides a single point for military veterans and their families to make contact with mental health services in the region. Veterans can be met in places they feel comfortable.
About 800 people have been referred in three years, and feedback from service users showed a good deal of gratitude.
Judges said this "small, effective" service was "an example to the rest of us".
Read a detailed case study about this project at HSJ Solutions
Finalists:
Best Beginnings - Baby Buddy
Birmingham and Solihull Mental Health Foundation Trust - Health and Well Being clinics in mental health trust
Coventry and Warwickshire Partnership Trust - An Enhanced Care Pathway for Veterans
CUES-Ed, South London and Maudsley Foundation Trust - CUES-Ed: 'Who I Am and What I Can: How to Keep My Brain Amazing'
King's Health Partners , IMPARTS - Integrating Physical and Mental Healthcare: Research, Training and Services
NHS Arden and Greater East Midlands CSU and NHS Coventry and Rugby CCG - Redesigning Perinatal Mental Health Services in Coventry and Warwickshire
NHS Oxfordshire CCG - Outcomes Based Contract for Adult Mental Health
NHS South Gloucestershire CCG - Primary Care Memory Assessment Service
North Somerset Community Partnership and Avon and Wiltshire Mental Health Partnership Trust - Partnership Working Across Mental Health and Community Services
Otsuka Health Solutions and Avon and Wiltshire Mental Health Partnership Trust (Highly commended) - Joining the Dots in Mental Health
South West Yorkshire Partnership Foundation Trust - Police Liaison Scheme – Working with Officers to Reduce Police Detentions for People Suffering Mental Health Conditions