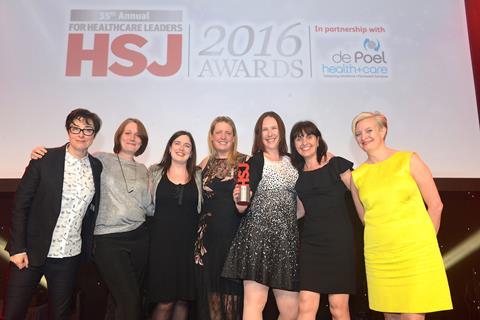 Portsmouth Hospitals Trust with Wessex AHSN - Mission: asthma and chronic obstructive pulmonary disease projects
The trust designed the Mission projects to identify patients on GP registers at risk of asthma, and then chronic obstructive pulmonary disease (COPD), so they could receive swift community-based assessment.
Results from the asthma scheme included a 67 per cent cut in emergency department visits, while the follow-up COPD project slashed such visits by 97 per cent in month five.
Judges hailed the "patient-focused" scheme.
Finalists:
Hammersmith and Fulham GP Federation - Building Sustainability
Homerton University Foundation Trust, Locomotor Community Pain Service - Redesign of an Integrated Interdisciplinary Inner City Community Specialist Pain Service
Hywel Dda University Health Board - Community Pharmacy Triage and Treat Service
NHS Arden and Greater East Midlands CSU and NHS Nene Clinical Commissioning Group - The Atrial Fibrillation Template – Reducing Strokes Through the use of Technology
NHS Leeds West CCG - Patient Empowerment Project
NHS Newcastle Gateshead CCG - The Newcastle upon Tyne Care Homes Programme
NHS Wakefield CCG, Mid Yorkshire Hospitals Trust and Wakefield Council (Public Health) - Faecal Calprotectin Testing in Primary Care
North of England Commissioning Support and NHS South Tyneside CCG - Lifecycle Primary Care Mental Health Service
Nottinghamshire Healthcare Foundation Trust (Highly commended) - Minor Surgery within High Secure Primary Healthcare Services
Waterside Medical Centre - Medicines Optimisation in the Frail Elderly