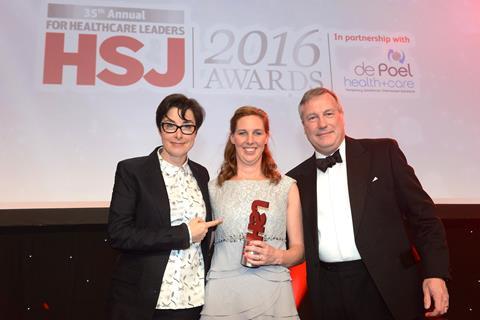 Dr Laura Neilson - Hope Citadel Healthcare CIC
Dr Laura Neilson set up Hope Citadel Healthcare CIC from scratch at the age of 27 – and seven years later employs 80 people across four practices.
She has been credited with innovation of a 'focused care' model to increase visibility of patients from vulnerable households, reducing accident and emergency department visits.
Judges were impressed by her "inspirational" style.
Finalists:
Craig Newman - Plymouth University Peninsula School of Medicine and Dentistry
Felicity Guest - NHS Fylde and Wyre CCG
Henry Wilding - Salisbury Foundation Trust
Jane Pollock - George Eliot Hospital Trust
Jane Runnacles - Royal College of Paediatrics and Child Health
Kim Britton - NHS Birmingham CrossCity CCG
Mahiben Maruthappu - NHS England
Priya Kumar - Kumar Medical Centre, NHS Slough CCG and North Middlesex University Hospital Trust
Tim Lang - County Durham and Darlington Foundation Trust
Waheed Arian (Highly commended) - Aintree University Hospital Foundation Trust
William Wynn-Jones - HCA Healthcare UK