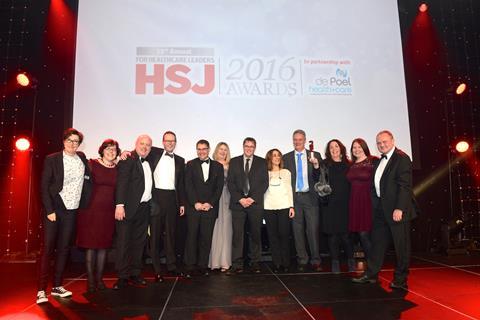 Sheffield Health and Social Care Foundation Trust - Transforming acute mental health care in Sheffield
Sheffield Heath and Social Care Foundation Trust overhauled the way it delivered mental health services in the Yorkshire city as acute bed occupancy was 120 per cent and large volumes of people were being placed elsewhere.
Length of stay dropped from 56 days to 31 on average, and one adult acute ward was able to be closed. A psychiatric intensive care unit with outdoor spaces and a sensory room opened in early 2016.
Judges praised the "impressive transformation" and noted "clear health economy benefits".
Read a detailed case study about this project at HSJ Solutions
Finalists:
County Durham and Darlington Foundation Trust - Redesign the Warfarin Service and Improve Patient Outcomes
King's Health Partners - Neurorehabilitation Enhanced Transition Team
Lancashire Care Foundation Trust - Transformation of Community Services in Blackburn with Darwen
NHS Arden and Greater East Midlands Commissioning Support Unit (Highly commended) - Transforming Care for People with Complex Learning Disabilities and Autism
NHS Guildford and Waverley CCG - In reach GP: Royal Surrey County Hospital
NHS Sutton CCG - Sutton Uplift
South West London Pathology - Creating an Integrated Pathology Service
Spectrum Community Health CIC - Outreach: Improving Screening for Female Prisoners
The Hillingdon Hospitals Foundation Trust - HomeSafe - A Fresh Start for the Frail Elderly in Hillingdon