Best Places to Work 2014 – community trust
Full time permanent staff: 428
Voluntary staff turnover: 3 per cent
Exec team male/female ratio: 100 per cent male/0 per cent female
Programme to recruit ethnic diverse staff: No
Another Lincolnshire-based organisation to appear in the top 10, NAViGO Health and Social Care is a not for profit social enterprise which provides mental health care services in North East Lincolnshire. Owned by its members (both staff and community), all have an equal voice and voting rights to directly change the way in which the organisation works.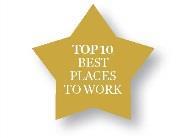 Its mission is to provide services that "we would be happy for our family to use". Navigo also employs 50 staff who have been diagnosed with, and treated for, a mental health condition. The only social enterprise on our list, it has high team camaraderie with 86 per cent of staff reporting good communication among team members.
Last year the trust launched its Rising Stars programme, offering staff at every level the chance to join a management development programme.
Any surplus the non-profit body makes is reinvested in local services. Members vote on what and this year it was awarded to its Older People's Services for a mobile base, "The Brain Bus", to offer therapeutic groups in community settings.
Its RESPECT programme, promoting empathy in understanding disturbed behaviour, has also been shortlisted in HSJ's Value Awards 2014.