Best Places to Work 2014 – mental health trust
Full time permanent staff: 2,085
Voluntary staff turnover: 9 per cent
Exec team male/female ratio: 83 per cent male/17 per cent female
Programme to recruit ethnic diverse staff: Yes
"We're all the same here," say staff working at Oxleas. The mental health trust employs a motivated team of over 3,000, many of whom – 91 per cent – know who their managers are and feel supported.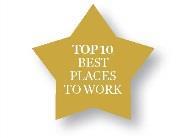 According to its director of human resources and organisational development, Simon Hart, this is down to organisational culture rather than anything "fancy". "We take complaints from staff as seriously as we would a patient. There's a learning rather than blaming culture. People feel they can report complaints," he adds.
Oxleas has 125 sites across the London boroughs of Bexley, Bromley and Greenwich and into Kent. In 2013, it took over ownership of Queen Mary's Hospital, when South London Healthcare Trust was dissolved and is investing £30m to develop the site. Eighty three per cent of staff say they are able to make suggestions to improve the work of their teams and 79 per cent feel able to contribute to improvements at work.
"There's an expectation set by the chief executive that we talk with staff and employ a transparent approach", continues Mr Hart.
This has paid off; as a provider of community health and learning disability services it is highly regarded and 91 per cent of its employees think career opportunities are open to all.
Oxleas also has a reputation for equality and diversity among its staff, having been ranked number 52 in LGBT charity Stonewall's Equality Index for the top 100 employers in 2014. Its BME, LGBT and mental health networks are staff led, and work not only to support fellow colleagues but develop better services for those from minority groups.