Best Places to Work 2014 – acute trust
Full time permanent staff: 4,240
Voluntary staff turnover: 7 per cent
Exec team male/female ratio: 71 per cent male/29 per cent female
Programme to recruit ethic diverse staff: No
Providing acute and community services to a population of 220,000, Salford Royal has built a national reputation as an early adopter of quality improvement systems and a champion of patient safety initiatives.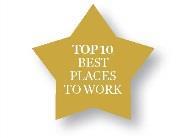 Its chief executive Sir David Dalton has been in the role for 12 years, and is recognised as having created a sustainably high performing organisation.
Over the last six years there has been a big push for responsibility and accountability among the senior teams says Paul Renshaw, executive director of organisational development and corporate affairs.
Strong leadership is important to the trust, he says, and one it has been heavily investing in through the training of its line managers. "We've spent a lot of time with staff on quality improvement and making them feel supported," he adds.
This simple methodology and effort has paid off as 73 per cent of its employees say they are supported by their immediate managers and 83 per cent say they have clear goals and objectives. Staff are enthusiastic about their roles with 79 per cent being satisfied with the care they give to patients. People communicate with each other, say staff, with 53 per cent of its employees believing there is effective communication between senior management and staff. Perhaps this is part of the reason that health secretary Jeremy Hunt has asked Sir David to lead a review into securing the clinical and financial sustainability of NHS providers. The review aims to offer "the vision and tools" for providers to adopt new models to improve outcomes for patients.