Best Places to Work 2014 – mental health trust
Full time permanent staff: 3,874
Voluntary staff turnover: 5 per cent
Exec team male/female ratio: 69 per cent male/31 per cent female
Programme to recruit ethnic diverse staff: No
The trust provides mental health, learning disability, eating disorders and substance misuse services for people living in County Durham, the Tees Valley, Scarborough, Whitby, Ryedale, Harrogate, Hambleton and Richmondshire. Its headquarters are at West Park Hospital in Darlington. For a trust of its size, it has lower levels of employees experiencing discrimination at work - at just 9 per cent, while staff also work closely together in sharing tasks. Eighty-five per cent feel supported by colleagues.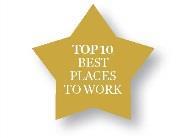 Tees, Esk and Wear Valleys has been working towards an improvement programme adopted in Seattle focusing on quality and safety. The Virginia Mason Hospital in Seattle borrows the "stop the line" quality management methods of Toyota in Tokyo. By incorporating these practices into the trust, it aims to engage and encourage staff to report problems or bring solutions for improvements without any fear of repercussions. "The staff know best on what and how to improve," says chief executive Martin Barkley. So far over 2,000 staff have taken part in the improvement events, he adds.
The trust scores top marks among staff on how valued they feel as employees, with 93 per cent believing they are trusted to do their jobs and 80 per cent feeling able to make improvements at work. Staff wellbeing is also boosted through the use of retreats and away days for 12 qualifying staff. The retreats run six times annually.
An employee support officer has also been in post for three and a half years and helps employees with mental health difficulties liaise with line managers.