NHS trusts will be asked to rate adult inpatient deaths on a scale of one to six of avoidability
New national mortality case record review to be rolled out "across the NHS" by autumn 2017
Review programme includes online data collection that will allow local "insight" from the data to be "shared nationally"
NHS Improvement says data will not be used to "compare organisations"
Trusts will be asked to rate the avoidability of adult inpatient deaths as part of a national standardised approach to mortality reviews being developed by the Royal College of Physicians.
Currently being trialled at seven pilot sites in England and Scotland, hospitals taking part in the new national mortality case record review are required to score inpatient deaths on a scale of one to six – from "definitely avoidable" to "definitely not avoidable".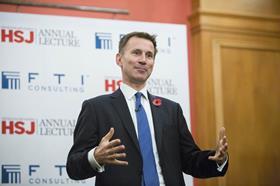 The RCP said it hopes to have all English acute hospitals involved by the autumn of 2017 and is recruiting trusts to be a second wave of early adopters.
In its clinical governance guide developed to help trusts implement the review programme, the RCP said there are "legitimate public expectations" that hospitals seek to detect "potentially" avoidable deaths, as well as a "professional obligation" to learn from care failures. During its research the RCP found while 92 per cent of trusts in England have a mortality review process these "vary widely" and "learning from analysis of mortality is not the norm".
Kevin Stewart, clinical director of the RCP's clinical effectiveness and evaluation unit, who is leading the project, said: "The primary aim of the work is to allow hospitals to learn and improve from things that have gone wrong in the care of patients who have died. This work is not about determining a percentage of avoidable deaths for each trust, it is not designed to do that."
However, the RCP is working with the Yorkshire and Humber Academic Health Science Network's Improvement Academy and the patient safety software company Datix to develop a web based portal for hospitals to collect the mortality data. The Healthcare Quality Improvement Partnership commissioned the RCP on behalf of NHS Improvement to develop and roll out "across the NHS" the methodology for the national mortality case record review.
On its website, HQIP said the "information capture system… will allow the learning and insight from local national mortality case record review, particularly themes and trends, to be captured and shared nationally".
HSJ has previously reported on ongoing delays to health secretary Jeremy Hunt's commitment to publish trust level avoidable deaths data.
A spokeswoman for NHS Improvement said: "We are clear that the methodology [of this review] cannot be used to generate data on avoidable mortality that can be used to compare organisations."
She added that "application of the methodology" will be considered "in the round" by NHS Improvement, Care Quality Commission, Department of Health and RCP representatives. She also said the mortality review "would not be suitable for mental health trusts", it has not been decided if all trusts will be expected to take part, or if all inpatient adult deaths would have to be reviewed.
The programme will also ask acute trusts to rate six aspects of the care received by patients who subsequently died from one (poor) to five (excellent). They will also have to make an "explicit judgement" about the quality of care received by patients overall, as well as during admission, during a procedure, throughout an operation, at end of life or hospital discharge and throughout ongoing care too.
In its guide, the RCP said to implement its standardised approach to mortality reviews each trust will need an executive level officer responsible, a mortality committee and a clear process for taking action when poor care is uncovered. It said: "There is only likely to be quality improvement when the results of the [review] are transformed into meaningful and tangible action."
The guide also said it was "envisaged" that the CQC would visit trusts to "further investigate the relationship between mortality and quality improvement".
The RCP was awarded the three year research programme in February after a tendering process by HQIP.