85,000 electronic patient records left "on hold"
Ongoing review has so far found 69 instances of delayed care
University Hospitals Bristol FT says no patient harm identified and waiting list will not grow significantly
One of the NHS's global digital exemplar trusts is reviewing 85,000 patients records after they were mistakenly left "on hold", potentially leading to treatment delays.
University Hospitals Bristol Foundation Trust said the backlog of outpatients was the result of "inconsistent administrative practices".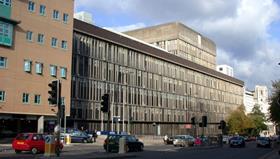 In a joint statement, the trust and Bristol, North Somerset and South Gloucestershire clinical commissioning groups said the trust had reviewed 21,000 of the 85,000 records involving the most high risk patients.
So far it has uncovered 69 instances where the next step in a patient's care was delayed.
The statement added: "The next step varies from discharge back to the GP, a follow up outpatient appointment, a diagnostic test or definitive treatment. We are clinically reviewing each record and have contacted every patient to expedite the next step in their pathway."
The trust has not identified any patient harm because of the backlog, the statement said.
The trust is one of 16 acute global digital exemplars selected for extra central funding to develop digital "blueprints" that can then be followed by less digitally advanced trusts. The trust was also rated outstanding in March 2017.
The on hold status affects outpatients where, after an appointment, the next step in their clinical pathway is not immediately clear.
These patients' status is designated as on hold in the patient administration system, where most patients remain, sometimes for months.
Papers presented to the trust board on 28 February said the backlog could result in "patient's procedures being delayed and patients waiting over 52 weeks".
Changes have since been made to the patient administration system to reduce the risk of the backlog growing. The trust is reviewing the group to prevent any patient spending more than two months on hold.
According to a paper that went to CCGs' joint meeting yesterday, the trust has agreed with regulators and commissioners to "validating and managing this list" of patients whose "pathway outcome was unknown" through a harm review panel.
A spokeswoman for System C, which supplies the patient administration software, said the on hold status was a necessary function but it was important patients were "managed consistently".
She said: "We are aware of the issue University Hospitals Bristol has had with inconsistent administration practices concerning the on hold facility, and we are working with them to help validate the open on hold records".
The trust said it was not anticipating "any significant increase in our current waiting lists" as a result of the backlog.
In January, the trust treated 88.1 per cent of patients in under 18 weeks, with performance deteriorating over the past 12 months. One patient was not seen within 52 weeks, which was an improvement on the previous two months.
Source
Trust and CCG papers; information provided to HSJ