The health service has the greatest purchasing power in the UK but without better management procedures a big chunk of NHS supplies are going to waste. Nosmot Gbadamosi reports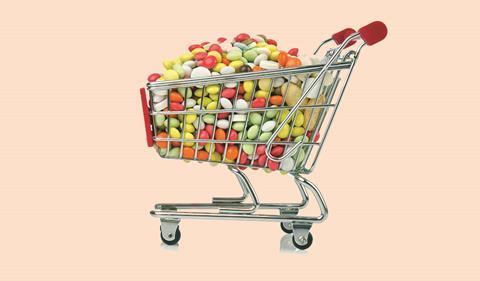 Procurement
In the mid-70s, grocery retailers embarked on an ambitious plan – to barcode their items to create a data trail from supplier to consumer. By pooling their efforts and sharing this data they could better understand their supply chain, market and consumers, creating efficiencies which could be passed on to customers.
Fast forward 40 years and the NHS hopes to do the same with a Department of Health mandate that all trusts draw up plans to implement GS1 barcoding standards.
Despite having the greatest purchasing power in the UK, "there is a perception that anyone in any NHS organisation can buy anything at any time at any price", concluded the 2013 DH report Better Procurement, Better Value, Better Care.
Rob Knott, former DH national director for NHS Procurement acknowledges that some trusts have intimated that 20-25 per cent of consumables they purchase could be wasted. At one hospital, products were found on the shelf in 2011 dating as far back as 1994. Items had been bought that had clearly never been used.
According to Carter
The Carter report identifies £1bn that could be saved through better procurement management. This chimes with consultants McKinsey & Co's estimate that a 600 bed trust could achieve recurring savings of £3m by fully implementing the GS1 system.
It is common for staff to order the wrong quantity or switch products due to an organisational initiative, forgetting they have surplus inventory still in store rooms. When Guy's and St Thomas' Foundation Trust conducted a review of its procurement practices, it found evidence of overordering due to lack of visibility of stock.
In late 2009, the FT implemented an automated cabinet system called SmartStore, which would automatically re-order stock when required. It now manages more than 40,000 clinical supply items.
"What we started off with was high levels of waste – the system revealed over 60 per cent of inventory in some areas was non-moving; in other locations we were able to empty whole store rooms that were not required," reflects David Lawson, the trust's head of procurement. "You also had an incredible amount of clinical time spent in the process of writing paper requisitions, chasing orders, looking for inventory and fire fighting."
For Mr Lawson the problem is not that trusts have not adopted automation – many have – but the majority of hospitals still do not have inventory management systems in place, except for the lowest value consumables channelled through NHS Supply Chain.
"There is much focus on the unit and cost variation of high cost products such as orthopaedics and cardiology, yet little attention is made to the risk of waste from the absence of basic inventory control for these same items. The fact that in orthopaedics, industry write-offs are up to 20 per cent of consigned inventory each year due to time expiry shows the scale of the problem."
Kevin Downs is director of finance for Derby Teaching Hospitals FT, one of 12 shortlisted by the DH as potential test sites for full rollout of GS1.
Having joined the NHS following a career in retail dealing with companies such as Argos, Sainsbury's and Tesco, for Mr Downs the retail concept translates relatively easily.
'You can automate a lot of your back office systems to automatically re-order a product'
"Rather than having to ask our skilled clinical people in theatres or on wards to assess what they are using, if you are able to collect that information reliably and electronically you can then actually automate a lot of your back office systems to automatically re-order that product," he explains.
"If you think about it, the manager at Sainsbury's doesn't worry about his Heinz beans arriving – they are automatically reordered."
Mr Knott agrees, citing a handheld device retail staff carry that tells them what stock they have, what is coming in and what stock is in other stores. "That's the level of interoperability they have," he says. "That's what we need to have inside each and every hospital. There are some hospitals, when they need something, within 10 seconds they can locate it, whereas there are others that don't even know what they ordered last year."
Another anomaly is the wide variation of product names per item and price paid across the NHS. To tackle this, Guy's and St Thomas' is moving beyond barcoding and working on a system similar to those employed by retailers designed to influence buyer behaviour.
Items will have images next to product names to help ensure staff are ordering the correct product, rather than one with a similar or alternative name. It will also ensure they are ordering from the most appropriate supplier.
"You can buy items from NHS Supply Chain which gets updated on a weekly basis, or you can buy it direct or from another wholesaler – so the risk is that we buy from a source that is more expensive than it needs to be," explains Mr Lawson.
When items are available from multiple sources, the FT's system will rank them in order of cost in a similar way to Amazon.
A single national catalogue
Going forward, the Carter review has recommended a single national catalogue of products used in the delivery of healthcare.
Other solutions do not necessarily require significant investment in new technology, but in staff expertise. Carter cites Guy's and St Thomas' as a best practice example, with the trust having invested in an additional supply chain expert within paediatrics.
"The post paid for itself in the first two weeks and reduced monthly expenditure by almost 70 per cent," says Mr Lawson. "We had multiple people ordering without knowing what was already on the shelf or the lead times of suppliers. Simply having someone in place who knew where everything was enabled us to dramatically slow down the rate of reordering to match what was needed."
The trust is now extending this approach through the development of a diploma programme for its supply chain team with the Chartered Institute of Logistics
and Transport.
"This will be the first time the institute has run any training of any kind for the NHS, a point which shows how far we need to go to catch up with other sectors where supply chain is recognised as a key priority," says Mr Lawson. The first cohort of students started their training last month.
The trust is also working towards a zero inventory model within orthopaedics where, for elective surgery, it will provide its main supplier with information on cases for the week ahead. "We'll give them the information in advance so that they can just deliver to us the inventory we need as opposed to having an inventory already in the theatres using up space," continues Mr Lawson.
Next year the trust plans to replace the space used to house surplus stock with an extra theatre.
Reducing variation and moving towards full automation are also the next steps for Derby. Currently within its theatres, costs can be tracked to staff and patients.
Procedure codes are recorded at the time of operation as well as number of staff and inventory used. The credibility of information collected means increased transparency. For example, questions can be asked on why "Mr Jones has cost this amount of money to do this procedure, why is there a difference in price, why is there a difference in time and in the number of people in theatre to do this procedure?" says Mr Downs.
"My clinical director is able to have a discussion with his peers and say, 'Look why are you taking an hour and a half when he is only taking an hour for this particular procedure? Do you need some assistance'," he says. "Rather than just somebody saying, 'Well you just need to get more people through'."
'We want the characteristics of world class retail management'
The trust can then analyse whether, for example, having an extra healthcare assistant in theatre could allow particular procedures to be done quicker, allowing extra time for additional patients to be fitted into the time saved.
Clinicians have been able to make procurement decisions based on the data. For example:
using maxillofacial non-moulded products that are then moulded to the patient's jaw rather than choosing pre-moulded products at twice the cost; or
pre-sterilised screws for plates are now used rather than unsterilised as the process of serialising these items internally proved more expensive.
Mr Downs believes the information collected has helped clinical teams communicate better with their procurement colleagues.
"Our intention in 2016 is to put the system into the wards so when somebody is putting a drip into patients or even putting a bandage on, we will know who's done it, what product they've used and the time they've done it, because the system will be able to record exactly when that point is," he says.
None of the trusts are operating on an assumption that retail is best. "The last thing we want to do in the NHS is turn into a retailer – that's what we've had to some extent with NHS Supply Chain," accepts Mr Knott.
"But one thing we absolutely want is the characteristics of world class retail management. We want to replicate the processes, the systems, the data and the capabilities of high performing businesses."
UK grocers have been fine-tuning their procurement models for years to ensure they remain competitive on pricing and stock is available where and when it's needed. To this end they've invested millions of pounds in sophisticated software programs that give them complete traceability of the movement of products in their supply chains thanks to the use of a standardised track and trace system using barcodes and RFID tags. These programs can automatically detect real-time peaks in demand for different products and also identify troughs.
Using predictive analytics they can also forecast future demand. For instance, by plugging weather forecasts into their software they can establish whether or not an upcoming weekend is going to be suitable for barbeques. If the sun is forecast to shine the retailers can ensure all of their stores replenish stocks of barbeque-related products and push these products towards the front of the store.
To ensure grocery retailers pay the best possible price for goods from their suppliers and take full advantage of their purchasing power, each product category also has its own dedicated pool of buyers who are experts in their field. These central purchasing teams know what products will deliver the keenest margins. Although former chairman of the BMA, Dr Hamish Meldrum, once said the NHS shouldn't be run like a supermarket, it's clear that there are some learnings that the health service could take from grocery retailers to eradicate waste and improve efficiencies.
The implementation of a standardised bar coding system across the whole of the NHS, would be a major step in the right direction. In the same way that retail store assistants can use a handheld scanner to scan a product bar code on the shelves and find out how many lines of the product are currently held in the store room, when they're due to go out of date and when the next delivery is anticipated, hospital patients could be fitted with wristbands bearing personalized barcodes that when scanned allow nursing staff to access their medical history.
Medicine and surgical equipment can be tagged in the same way so that staff can see how much stock is held, where it's held, when it expires and when the next delivery of the item is due. This standardized approach, which provides greater levels of transparency and traceability, would be particularly helpful for trusts that run multiple sites and who don't necessarily have a centralised procurement team with an overview of current stock levels.
The ability to have real-time oversight of a trust's inventory levels means that orders for new stock is only placed as and when needed, which helps eradicate the stockpiling of items and in the process significantly reduces wastage. The use of sophisticated predictive analytics software would also greatly aid a trusts' ability to flag up issues before they become major problems. For instance, a projected summer heatwave will inevitably lead to a rise in the number of elderly patients admitted to A&E suffering from dehydration. If this danger is identified early enough procurement teams can make sure they have adequate levels of saline in stock. Similarly, if there is a sudden spike in the number of people reporting to hospital suffering from the winter vomiting bug, trusts that have centralized systems across their sites will be able to instantly identify this emerging pattern and put in place adequate procedures, including ensuring there are sufficient members of staff where needed.
In one sense Dr Meldrum was right when drawing his comparison between the NHS and supermarkets – after all patients are people, not commodities and they should not be dehumanised at any cost. However, like the NHS, the grocery retailers are large organisations with incredibly complex supply chains, which is why they have worked so hard and invested vast sums of money into ensuring their procurement processes and procedures are as streamlined and efficient as possible. And that's where the health service can take learnings.
Simon Creasey is former associate editor of The Grocer