So-called banter is an everyday reality for female surgeons, and could be keeping more women out of the specialty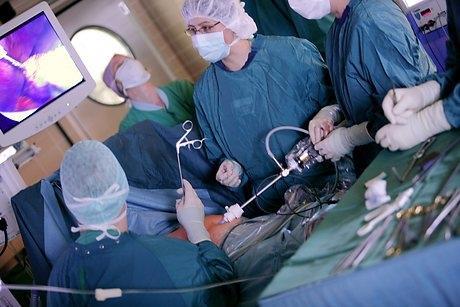 The year 2015 has seen somewhat of a resurgence in debates relating to gender-based discrimination for many professions and the revelations have been staggering.
An Australian study on sexual harassment facing female surgeons in hospitals hit the headlines in March. In April, Tumblr received an astonishing number of blogs overnight when ShitPeopleSayToWomenDirectors went live.
Others followed. Isis Anchalee, a software engineer from San Francisco, created #ILookLikeAnEngineer to try and break the male stereotype associated with her profession. This was followed by the #ILookLikeAPhysicist and in August #ILookLikeASurgeon was launched, and is still going strong.
Harmless banter
Even Hollywood creatives are shocked that only 7 per cent of the top Hollywood directors are female. Russell Crowe was mourning "the loss of traditional masculinity", and Meryl Streep eloquently discussed the fact that the top 10 highest paid actresses made a combined $226m in 2014 compared to the $419m made by the top 10 men.
Thankfully overt sexism is now unacceptable and is on the decline. But low level, subtle sexism remains pervasive in society and continues behind the smokescreen of harmless banter and humour.
Let us consider the following real-life experiences reported to me by female medics in their own words. I've collated them in to one working day in the NHS:
"At 9am I did the ward round with the team, and the man I operated on yesterday asked me when the doctor was going to see me. Meanwhile, the patient next to him kept calling me 'sweetheart '."
"I attended a management meeting. I noted with interest that the clinical director introduced me as the new female consultant. He referred to me as the beautiful 'Anne, married with three children who despite her family commitments manages to go to swimming every day.' In contrast, the new male consultant was introduced as the talented Mr X whose professional qualifications and academic achievements were highlighted. I presented an idea for cost savings, which was duly ignored. One colleague suggested that 'I play mum and make the coffee'. Half an hour later someone else (a man) made the same cost saving suggestion and was applauded."
"During lunchtime, I walked across the road to the local café and a builder shouted 'nice legs'. Was my skirt too short I wondered? Later that afternoon in theatre there were no small sized tops so I wore one that was two sizes too big. Before I could put a pin in the top, my colleague started a conversation with his eyes firmly glued to my breasts."
"By the end of the day, I wanted to go to the hospital social club but I am conscious that I can't talk about the Rugby World Cup with my colleagues propped at the bar and I can't plan the next golf trip. Also, I know that they always look at my cleavage. Perhaps my top is too revealing, I ask myself."
These experiences depict what women can face on a daily basis and many female medics will relate to some if not all of them.
Drip-drip effect
This drip-drip effect of sexism, the so-called harmless banter not intended to be malicious, is in danger of becoming the norm if it is not already. In some ways, it is becoming a bonding ritual between the sexes. Such behaviour devalues women and can adversely impact on their self-confidence.
'Such behaviour devalues women and can adversely impact on their self-confidence'
It is important to acknowledge that things are definitely getting better in the NHS. But it is also fair to say there is still a very long way to go.
Female entrants to medical schools now outnumber men, but by the time they complete their training, the gender imbalance will be stark. A study published in the US this year of women's perceptions of discrimination during surgical training and practice found that 87 per cent of women observed or experienced gender-based discrimination during medical school, 88 per cent during residency and 91 per cent during practice.
Meanwhile the Royal Australasian College of Surgeons commissioned a report and the Expert Advisory Group found that nearly 50 per cent of college fellows, trainees and international medical graduates report being subjected to discrimination, bullying or sexual harassment.
Similar studies in the UK are not available, so the full extent of the problem is unknown.
Invisible problem
Discrimination is also invisible to those who do not experience it and, therefore, it is difficult to adequately convey the scale of the problem. What we do know is that the numbers of female surgeons in the UK are increasing. In 2000, 4.59 per cent of consultant surgeons across all specialties were female compared to 10.56 per cent in 2014.
However, with the ever-increasing numbers of women medical student entrants, the question of attrition through training needs to be addressed. Just how many women are dropping out of surgical training and why?
Stereotyping based on gender is prevalent throughout society. One study examining the views and perceptions of the roles of men and women in the British workplace found that 38 per cent of 2000 respondents do not believe that women should take on the role of a surgeon.
Women must continue to enjoy their workplace without fear of intimidation, be passionate and ambitious and know their jobs better than anyone else. The work will speak for itself and this will command the respect.
One problem with surgery is that many negative behaviours have been transmitted inter-generationally through the master-apprentice, quasi-military hierarchical training system and considered a rite of passage. This will change for the better as more women take up senior positions in surgery, and as the balance of personal and professional lives shifts. Surgeons now have different priorities compared to former generations.
No more taboos
Previously, surgery was regarded as a career where life outside work took second fiddle to the job – neatly summed up in the male surgeon's priority list – knife, wife and life. However, regardless of gender, most surgeons now want quality time outside work to purse life. Therefore, priorites are now, knife, life and wife. Note the exclusion of women in this adage.
No longer must gender discrimination be a taboo subject – society and the medical colleges must open up the discussion and have policies in place to deal with this impartially and fairly without fear of recrimination to the person reporting concerns.
Women must not be or feel isolated. Proactive support networks should be available to help and mentor women – the HSJ Women Leaders network is a good example. Indeed, women could also mentor men to challenge adverse behaviours. How about an anonymous reporting system for bullying and intimidation in the workplace?
Patients deserve to be treated by the best doctors regardless of gender. If surgery is only recruiting from the best male graduates and not including the best female graduates, then there is something fundamentally wrong and unjust. We must all strive to provide the best medical care.
Jyoti Shah is a consultant urological surgeon, commissioning editor of Annals & Bulletin of the Royal College of Surgeons of England, and editor-in-chief of Medical Woman