BME Pioneers list celebrates those making an impact on health
The country's first female black trade union leader, a visionary pioneer of keyhole surgery, the leading third sector big hitter on social care enterprises, as well as managers, consultants, academics, CCG leads and equality and diversity champions are all on HSJ's first ever list of healthcare's pioneers from black and minority ethnic backgrounds.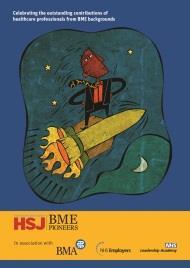 The 50 names on HSJ's BME Pioneers list were announced at an event in London this evening. They include Turning Point chief executive Lord Adebowale, British Medical Association president Sir Sabaratnam Arulkumaran and speech and language therapist Stella Hartman.
HSJ editor Alastair McLellan said "Black and minority ethnic staff have made major contributions to the NHS for years – dating back to the 1950s. Today influential BME staff continue to shape the quality of the NHS, yet only one of 200-plus NHS trusts has a chief executive from a BME background.
"Through our work we come across many BME healthcare professionals and managers who have the potential to make an even greater contribution. However, it is often very difficult for them to plan a route through to 'the top' because of the lack of role models who have already made the journey."
He added: "It is hoped by identifying and publicising those pioneers who are having a significant impact on health performance, this can spark a step change and provide inspiration to the huge reservoir of senior talent that the NHS is failing to tap."
The pioneers on the list were nominated by HSJ readers and healthcare experts. A panel of judges selected the most outstanding nominees for the inaugural list, supported by the BMA, NHS Employers and the NHS Leadership Academy.