EXCLUSIVE: Low paid staff offered route to top clinical jobs
HSJ has discovered thousands of lower-paid NHS support staff could be given a path into top clinical jobs after Health Education England revealed plans to redirect part of the service's training budget.
The education and training body will develop in-service training for staff working in bands 1-4 of the Agenda for Change pay framework. It plans to roll out national minimum training standards for all workers in bands 1-4, not just healthcare assistants, as had previously been indicated. The independent sector will also be included in this training expansion.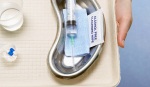 HEE will seek changes to the way education and training is provided to allow staff in these bands to progress into professional careers as doctors or nurses, beyond band 4. This could include the creation of part-time degrees, which could be up and running as soon as September 2014.
New clinical roles could be developed as part of the creation of a more flexible workforce. An example of this approach is the use of midwifery support workers, who work alongside trained midwives in the East of England at lower cost and are recognised by the Royal College of Midwives.
HEE will work with provider trusts and its 13 local education and training boards to encourage a greater emphasis on continuing professional development within bands 1-4.
The boards will need to deliver the strategy from their existing education and training budget. Stephen Welfare, managing director of the East of England LETB and national lead for the strategy, said: "I don't think it's possible for us to talk about safe staffing levels if we don't also have properly trained clinical support workers."
He said workers in bands 1-4 made up 40 per cent of the NHS's 1.7 million workforce and were responsible for an estimated 60 per cent of patient contact, but received just 5 per cent of the education and training budget.
Mr Welfare said significant investment in bands 1-4 "would build trust and confidence in the group". He said the strategy would take a five to 10 year view of workforce development. "We need to make sure we invest more and that this group is given the priority that they deserve," he added.
Staff in bands 1-4 include healthcare assistants, porters, domestic support workers and a range of non-clinical jobs such as finance assistants, receptionists and medical secretaries. They earn between £14,294 and £22,016.