Dr Nadeem Moghal has left Barking, Havering and Redbridge University Hospitals Trust
It comes after he sought to challenge "inappropriate behaviours" by some of the trust's medical consultants
A report published earlier this month had warned that his position "may be unsustainable"
The medical director of a troubled acute trust who tried to challenge "inappropriate behaviours" by consultants has left the organisation on secondment, HSJ has learned.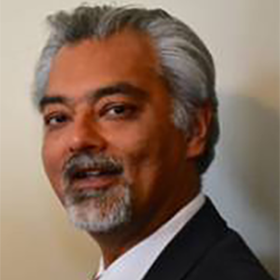 The departure of Nadeem Moghal from Barking, Havering and Redbridge University Hospitals Trust comes after the publication of an NHS Improvement commissioned review earlier this month, which said his position "may be unsustainable over the longer term".
A memo to clinical staff from the trust's communications team, seen by HSJ, said Dr Moghal had been seconded to roles at the Royal College of Pathologists and Nuffield Trust think tank.
The NHSI review, carried out by Deloitte, credited Dr Moghal with tackling "inappropriate behaviours amongst medical consultants", saying he promoted "more structured job planning and greater transparency in relation to private patient activities".
But it found there was also a view that his style and approach could be "overly robust" and this was "not always conducive to bringing the medical workforce with him". It said there needed to be a more detailed review of medical leadership and culture "before taking definitive action".
HSJ understands that a second trust commissioned review into the wider issues has also been carried out by Deloitte. It has not been published.
It is understood negotiations around Dr Moghal's departure have been taking place for weeks. A trust spokesman told HSJ he had left by "mutual agreement".
Dr Moghal will be clinical director of innovative professional learning at the RCP and senior clinical fellow at the Nuffield Trust.
One senior clinician at the trust, who spoke to HSJ on condition of anonymity, said: "Some of us are really pissed off with the way this is affecting the day to day need to improve patient care.
"[And] it sends out a very bad message about rolling over and accepting poor consultant behaviours. It will make his successor's job basically impossible."
The memo to staff said Magda Smith, the trust's associate medical director, would become acting medical director while the board decides how to fill the post.
It added: "Nadeem has played a vital role in improving the quality of care in our hospitals – he was part of the senior leadership team that helped us to move out of quality special measures, secure the partnership with Virginia Mason, and introduce clarity and accountability when it comes to maintaining standards of care."
Asked about the trust's commitment to challenging the "inappropriate behaviours" referenced by Deloitte, interim chief executive Chris Bown said in a statement: "As a board, and as a senior leadership team, we will continue to encourage the very highest standards of professionalism among all our colleagues.
"We will also continue to challenge anyone whose behaviour does not reflect our shared values, and will not be afraid to take action as and when required."
Mr Bown took over from Matthew Hopkins last month, who was also criticised in the Deloitte review for failing to grasp the severity of the trust's financial problems.
BHRUT missed its financial plan by more than £50m in 2017-18, and had to apply for an unplanned cash bailout from the Department of Health and Social Care midway through the year. Mr Hopkins was on leave for the first half of the financial year, to undergo a kidney transplant.
HSJ has highlighted several questions around the collapse and subsequent investigations, which remain unanswered by NHS Improvement, whose regional finance director for London, Jeff Buggle, was the trust's finance director and acting chief executive for much of the relevant period.
Source
Memo sent to clinical staff; trust statements