In the first part of their series on commissioning, Stephen Hill and colleagues look at how GPs can add value to the process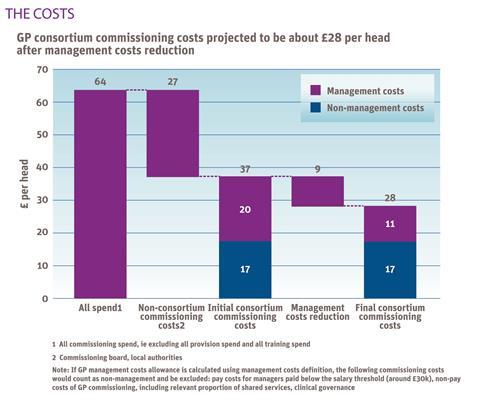 GP consortium commissioning costs projected to be about £28 per head after management costs reduction
A new era has arrived and a new call sounded: "Set up pathfinders, now."
GPs have responded to the challenge and consensus is emerging on some topics. The importance of delivering specific improvements for patients is critical. There is enormous creative energy among GPs for improving services, which must not be diverted into endless debates about governance. Starting with patient benefits is clearly right.
There is also recognition that the "natural scale" of commissioning varies dramatically from service to service, with some, for example care of older people in the community, best commissioned locally, and others, such as acute care, best done at larger scale.
GPs are working through the implications, recognising that consortia need to work effectively at several scales: many consortia are considering two- or multi-tier arrangements, with clusters covering a population of 30,000-50,000 grouped into larger consortia with a population of 500,000 to 1 million.
A combination of this, plus selective outsourcing of specific functions and the use of reinsurance, should provide enough scale to commission acute services well, keep management costs per head low and manage risk effectively, while retaining the responsiveness and accountability for delivery of local arrangements.
However, there remains much to do. In this series of articles, which continues next week, we provide perspectives on four challenges that every consortium must solve:
how GPs can add value to commissioning;
management cost;
financial risk;
how to manage performance.
In this article we focus on management cost and how GPs can add value to commissioning.
How the consortia can improve on today
Deep and broad clinical expertise and day-to-day contact with patients and communities mean that GPs can add tremendous value to commissioning.
This is true both in designing improved services and in getting the most out of current services.
Commissioning improved services
GP commissioners will need to understand the potential for improving services as they take on delegated budgets. Our analysis shows that the four main improvements they can commission will deliver improved quality and about 20 per cent improvement in productivity:
Pathway improvements that deliver substantial value, especially for unscheduled care, long term conditions management and planned care.
More integrated services: especially acute, community and primary care, but also mental health and social care.
Productivity improvements, particularly in community and mental health services, which have not had the transparency about productivity and quality or the organisation and focus that the acute sector has had.
More effectively configured acute services, where required.
The role of the GP leader in commissioning improved services is to obtain and interpret data about populations to understand needs; design improved care models, including prioritising investments and understanding provider economics; and provide clinical expertise throughout procurement, so that the best deal is made with the provider.
Managing current services
While GP commissioners will naturally be attracted to what needs to be done to improve services, it will be vital to manage current services. It will be crucial to manage the relationship with, and activity of, providers, especially the acute ones. The combination of 3-4 per cent intrinsic growth and acute overperformance would readily soak up all available investment if not effectively managed - crowding out any money available for investment in new services.
The role of the GP leader in getting more out of current services is to actively manage relationships with providers; determine how the GP team can act together to incentivise providers to be responsive; and work with colleagues to ensure primary care provision is aligned with the consortium's commissioning.
What every GP will need to do
While some GPs will take leadership roles in commissioning, others will prefer to focus more on provision. However, every GP in a consortium will have a role to play in commissioning. Specifically, this includes:
shaping care models and prioritisation decisions, and explaining the rationale to patients;
ensuring referrals support commissioning intentions;
managing acute services, including ensuring their patients are appropriately cared for in hospital;
taking accountability for the financial implications of how they manage their patients in primary care.
Management cost
Commissioning costs today are £60-£90 per head. Of this, our analysis of one health economy suggests that around £37 will be borne by consortia, with the rest falling to others. The £37 consists of around £20 management costs and around £17 of other costs, such as IT and shared services, which fall outside the management costs definition but nonetheless must be borne by consortia.
The Department of Health has established a requirement for a 45 per cent cut in management costs, which would reduce the management costs to £11. This suggests a projected operating cost of £28 per head, following management costs reduction.
The management allowance has not been finalised but the operating framework has set an expectation that it will be £25-£35 per head by 2014-15.
The impact will be material, but regardless of the final figure, consortia need to use the income they have to best effect. There are significant fixed costs associated with being an accountable, clinically led, organisation. PCT boards cost about £0.5m to £1m.
Releasing time for a clinical director (50 per cent whole time equivalent), five clinical leads (20 per cent whole time equivalent), and sessions for other clinicians could easily require the equivalent of three whole time equivalents, costing £300,000-£500,000.
This suggests fixed costs of £800,000-£1.5m. The larger the consortium, the larger the income from which this fixed cost must be deducted and the more money left to invest in other commissioning staff and resources.
Stephen Hill is an expert working in GPs, PCTs and SHAs, Ben Richardson is a partner, heading the firm's work in primary and community care, and Nigel Manson is a partner, heading healthcare finance, at McKinsey & Company.
Next week
In the second part of this article, we look at how commissioning consortia can address the challenges of financial risk and how to manage performance.
FIND OUT MORE