Birmingham and Solihull Mental Health FT says it will not follow CQC requirement to drop blanket patient searches due to safety concerns
Searches of inpatient units uncover more than a 100 knives and other weapons in a year, trust says
CQC says it takes safety seriously but search policy was 'difficult and overly time consuming to apply'
A large mental health trust is resisting a requirement from the Care Quality Commission to drop blanket patient searches as it would put people at risk from knife crime.
Birmingham and Solihull Mental Health Foundation Trust chief executive John Short said he "struggled to understand" the order, which was included in the trust's latest CQC's report, published in August.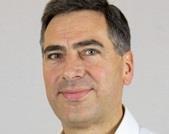 "We can't do what they say," he said.
The inspection downgraded the trust's overall rating from good to requiring improvement. The CQC said the trust must assess each individual patient's risk rather applying a blanket search policy.
Trust staff told inspectors the policy was "difficult and overly time consuming to apply and that recording of searches was poor", the report said.
The policy was introduced in 2015 after a critical Health and Safety Executive investigation into the near fatal stabbing of a staff member at one of its acute inpatient units.
Figures provided by the trust to HSJ show that in 12 months, searches in inpatient units uncovered 147 knives and other weapons that could cause serious injury.
Mr Short said since the CQC report, the trust has improved staff training and introduced wall scanners rather than the more intrusive wands. But the trust would not be dropping the blanket search policy, he said.
He added: "We are not aware of any current evidence based approach or risk assessment tool that can identify whether an individual is at risk of carrying weapons. This is not related to an assessment of an individual's mental illness, as weapons are carried by many members of the public with no known mental health issues.
"We therefore believe that carrying out searches of service users on admission to acute inpatient wards and on return to those wards from leave is an essential procedure in ensuring the safety of service users, staff and visitors and mitigating the risk of serious injury."
A CQC spokeswoman said the requirement to stop blanket searches remained.
She said: "We take safety in mental healthcare very seriously and recognise there will be occasions where it is necessary for providers to search patients on admission and return from leave. However, we found that the trust was following a blanket policy of searching all patients including those who are well known to the service and who might have been assessed as being at low risk."
She said the trust had responded "positively" to the requirement and was in discussions with staff about potential changes to search procedures.
The trust also challenged CQC's rating of requires improvement. A trust spokeswoman said the challenge was unrelated to the requirement to alter its search policy but would not comment further.
Other concerns raised in the report include a "disjoint" between the board and staff, medical management oversight and poor staff knowledge of the Mental Capacity Act in some services.
Source
Information provided to HSJ; CQC report