Huddersfield to lose emergency services despite being twice the size of Halifax
Plan will ensure full use of PFI buildings at Calderdale Royal Hospital in Halifax
CCGs say plan will maintain high quality services using the resources available
STRUCTURE: Commissioners may consult on plans to reconfigure acute services in Halifax and Huddersfield that would see the larger town lose its emergency services.
The preferred reconfiguration option for the troubled Calderdale and Huddersfield Foundation Trust is dependent on £490m of "external funding support" being secured, according to a pre-consultation business case.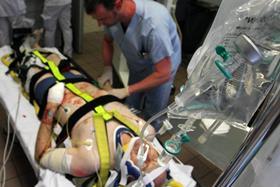 For several years it has been accepted that the FT cannot sustain two emergency departments, although it was previously suggested that Huddersfield should be the "hot" site for emergency care.
But a business case published by Calderdale and Greater Huddersfield clinical commissioning groups last week proposes that emergency and high risk care is centralised at Calderdale Royal Hospital in Halifax.
This would involve disposing of Huddersfield Royal Infirmary and building a planned care centre on the neighbouring Acre Mill site. Halifax and Huddersfield are nine miles apart.
It would make Huddersfield one of the largest towns in the UK without an accident and emergency department. Urgent care centres would be created at both sites.
Huddersfield has a population of more than 160,000 – the 11th largest town in the UK – while Halifax has a population of about 88,000.
In December, Jim Mackey, the incoming chief executive of NHS Improvement, suggested this was an example of a reconfiguration that needed to be urgently addressed.
CHFT has forecast a deficit of £20m this year, on a turnover of £350m. The business case says the current configuration of services is unsustainable because of "dual site running" costs and "a legacy first wave PFI arrangement on the Calderdale (Halifax) site with no negotiable exit route".
If Huddersfield had been chosen as the emergency site, an alternate use for some of the Halifax estate would have to have been explored "to optimise PFI utilisation".
An options appraisal found costs were the main difference between five shortlisted options, and were the determining factor in the decision.
Even so, the preferred option will require about £490m of external funding until 2021-22, including loans for the capital requirement, non-recurrent reconfiguration costs and non-recurrent deficit support funding. The capital element of this would be worth about £300m.
The CCGs will consider the report at a joint meeting tomorrow and decide whether to proceed with a public consultation.
The proposal, made under the Right Care, Right Time, Right Place programme, is in line with the preferred option identified in the FT's new five year strategy.
The services that would be centralised in Halifax include A&E, paediatric surgery, doctor led maternity care and intensive care.
CCG leaders say in the introduction to the business case: "Whilst some sacrifices will have to be made, what we're arguing for in this document is that the benefits that will result from this investment will enable us to maintain high quality services within the resources that we believe will be available to us in the years to come.
"And to those who may argue that the sacrifice is too great, we say that without the changes we are proposing our hospitals are simply not sustainable; standards of care will fall, our hospitals will become unsafe, we will not be able to recruit and retain the specialist expertise that we need and we will see the gradual move away of services from Calderdale and Huddersfield to other sites in Yorkshire, resulting in patients having to travel even further in order to get the care they need."
Source date
15 January 2015