Our analysis reveals 10 commonly occurring blocks to bottom-up change, as identified in phase one of HSJ, Nursing Times and NHS Improving Quality's change challenge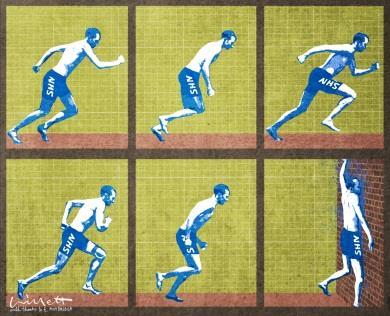 1. Confusing strategies
Our organisational strategies hold us back, they fail to provide a clear 'call to action' to change things from the bottom up. They reinforce inflexibility in our business structures, as well as leadership that is controlling.
Often there are so many priorities, it isn't clear what we should do. This leaves us fearful of stepping up without the autonomy to deliver change effectively.
2. Over-controlling leadership
Despite some efforts, we still rely on command and control leadership rather than coaching and nurturing. We perceive that we do not have the freedom or trust to create change from the bottom up.
It's not that our leaders are bad – they just do not have the rights skills. This leaves many staff feeling afraid of speaking up, which restricts bottom-up change.
3. One-way communication
Often our leaders communicate at us, rather than with us. We are not open and transparent with each other.
We also do not have enough formal/informal ways of connecting creative people. Part of this is because there is a lack of both soft skills training and technical systems to support communication.
4. Poor workforce planning
It feels like we either don't have enough people or enough time to get involved in driving change from the bottom up. Some of this is because we often don't have the right mix of skills in our teams. We have a skills deficit because we are failing to nurture our people and organise the right mix of talent.
Having the right number of people with the right skills requires us to work in partnership with organisations outside our own, something we are not very good at.
5. Stifling innovation
There is no shortage of ideas among health and care staff. The challenge is a shortage of processes to capture ideas and a lack of leaders who truly empathise with the needs that we see.
Senior leaders are trapped in inflexible processes. And we fail to embrace ways of taking part in low cost, low risk experiments to test ideas.
We must utilise the diverse experiences of stakeholders, including our patients.
6. Playing it safe
Our hierarchical, centralised structures either make it too difficult to access funding and support for ideas, or we end up funding too many projects with not enough resources.
It seems that a lack of clarity on what's needed from leaders, plus a fear of doing something new from the bottom up, leaves us supporting low risk ideas involving the usual suspects.
7. Poor project management
When developing and implementing projects, we tend to value inputs and action rather than value and outcomes; it means we're kept busy, with no room for effective bottom-up change.
We underestimate the complexity in which we are working and we blame inflexible processes and lack of resources.
However, how change is led from the top and explained to all, and how we are trained to manage and implement projects, ultimately undermines bottom-up change too.
8. Undervaluing staff
For us to have a positive mind-set and ultimately ensure the wellbeing of our people, we need to treat each other with compassion, as much as we would our patients. Alas, we don't always do this.
All too often we do not feel connected to our organisation's purpose and do not feel that we have a real stake in its future. Feeling like a cog in the engine, rather than a value-adding individual, makes us feel undervalued, disengaged and even ill. Why would we proactively get involved in change?
9. Inhibiting environment
Our physical environment can stop us meeting people and connecting ideas. The closure of sites has put a burden on the remaining organisations. And, as we all know, our IT systems do not help us access knowledge and share information.
10. Perverse incentives
The incentive system and performance management regime creates disincentives to support bright ideas that might create better outcomes for patients, but which would lose the organisation income. It creates incentives that leave us stuck habitually supporting self-serving projects.
We are now asking for your solutions to these barriers. To share your solutions anonymously please go to the Clever Together website.
HSJ launches second phase of change challenge campaign
1

2

3

Currently reading

The crowd speaks: Top 10 barriers to change

4