Highest rate of generic drug concessions for over two years recorded in February 2019
NHS Clinical Commissioners says pressure on

CCG

finances increasing "month on month"

Brexit

uncertainty is "exacerbating these issues"
The number of generic drugs being sold above national tariff rose to its highest rate in over two years at the start of 2019, despite national efforts to cut this number.
Analysis obtained by HSJ shows the number of generic drugs for which clinical commissioning groups had to pay above the official government tariff rose to 90 in February, the highest number recorded since January 2017. This was up from 73 in January.
There have been 54 concessions granted so far in March, with more expected over the next week.
HSJ obtained the data from the Pharmaceutical Services Negotiating Committee, which represents community pharmacies. Generic drugs are generally bought through nationally set tariff prices. But pharmacies can apply for price concessions that enable them to temporarily pay more when the drugs are in short supply.
The price rises are having a significant impact on CCG budgets, especially since NHS England and NHS Improvement said in their 2018-19 planning guidance not to plan for additional generic drug price rises.
They gave this advice after the Department of Health and Social Care said it had taken action to prevent a rerun of last summer's high generic concession rate which cost CCGs £312m in the last financial year.
The number of concessions was in decline in 2018, but has spiked again in early 2019.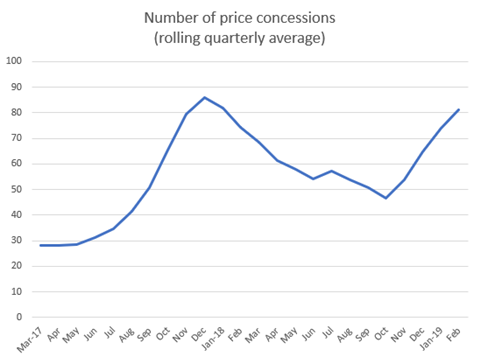 Julie Wood, chief executive of NHS Clinical Commissioners, said of the new data: "[CCGs] are facing increased cost pressures from the items receiving concessions… and we remain concerned that we are seeing this pressure increase month on month.
"Overall the current monthly spend across England is now about four times higher than it was in 2016 and CCGs will have to find ways of funding these cost pressures… and live within the resources they have been given to meet local needs and priorities."
One CCG, Birmingham and Solihull, spent £397,541 on generic drug concessions in February alone, and £3.5m in the last 12 months. Half of its February cost was spent on the painkiller Naproxen.
Between November 2018 and February 2019 ,the price of 500mg of Naproxen rose from £5.61 to £12.50. In February 2019, Airedale, Wharfedale and Craven CCG spent almost 10 times as much money on the drug compared to November 2018.
The PSNC's pharmacy funding director Mike Dent said: "[The shortages] are due to a combination of factors such as manufacturing problems and the UK being seen as a less attractive market for manufacturers as community pharmacies have helped drive down medicine prices for the NHS. Uncertainty around Brexit and contingency planning may also be exacerbating these issues."
The PSNC wrote to the Parliamentary health and social care committee in December 2018 to warn that Brexit could "trigger further price increases" that impact on patient safety.
A DHSC spokesman said it had introduced legislation that enabled pharmacists to dispense alternative medications to those in short supply without the need to go back to the prescribing clinician.
The legislation should reduce the time burden on GPs who currently have to represcribe alternative drugs if local pharmacies cannot get hold of a doctor's first choice due to shortage. However, the British Medical Association has raised concerns the new rules may jeopardise patient safety.
Source
PSNC, HSJ interviews
Source Date
February, March 2019