Generalist training makes for a better specialist, says Jane Dacre, one of HSJ's Clinical Leaders this year. Rebecca Thomas talks to the RCP president about why a social movement to drive transformational change is needed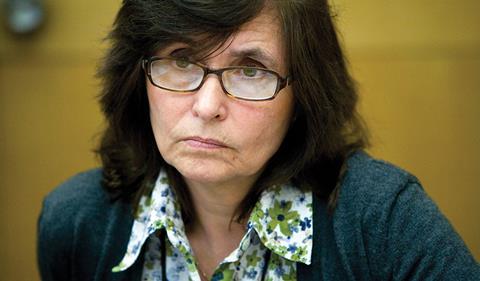 Jane Dacre
"Generalism is crucial," says Jane Dacre, president of the Royal College of Physicians, as she sets out her views in a debate that has been heating up across the sector. "You're not serving the patient well unless you are a generalist as well as a specialist."
'As the population gets older we neglect generalism at our peril'
Only a year into her term as president, Professor Dacre is attempting to convince clinicians, who have historically favoured specialism, that generalist training is just as important. Her argument is this: we need to meet the needs of our changing population.
"As the population gets older, patients don't just turn up to hospital with pneumonia, diabetes or stroke. They'll turn up with all of them," she explains. "We neglect generalism at our peril."
Professor Dacre concedes that if she had a heart attack she would not want a stent to be put in by somebody who was not a "specialist", but stresses that "generalism makes for a better specialist" and one that is "fit for purpose".
Clinical Leaders
Professor Jane Dacre is one of HSJ's top clinical leaders for 2015, announced last night - See the full list
Shape of training
For generalism and specialism to be treated equally, however, she believes that current medical training would need to be more flexible.
"What we need to do is to ensure that everybody has the opportunity to be dually accredited, but we allow the marketplace to dictate who does what," she says.
Like most royal college presidents, Professor Dacre has maintained her clinical practice and so exercises a certain level of pragmatism in her views towards generalism.
"Somewhere rural you would have to do a lot of generalism with your cardiology, but if you work in an academic health science centre you might only put stents into the left coronary artery."
She explains that in the past the "excitement" felt for what the specialist could do meant that clinicians "focused less on the bread and butter".
Bread and butter
For Professor Dacre this "bread and butter" is quite simply "treating the patient in front of you" on any given day.
Considering our ageing population, it is quite likely that this patient will come in with multiple ailments and so a specialist trained in just one area will not be able to give that patient the best possible care, she believes.
However, Professor Dacre stresses the need for balance in medical training, warning that "medicine needs to continue to be broad church".
'Medicine needs to continue to be broad church'
This warning comes into focus when the subject of the General Medical Council's Shape of Training Review is broached. The analysis, published by the GMC in 2013, recommended that all doctors' training be both shortened and structured in a more general way.
Professor Dacre is adamant that it is possible to be a really good generalist and a really good specialist, and that people can be trained to an acceptable level in both.
She is also quick to defend the GMC review against junior doctor Ben Dean's accusations of a lack of transparency. Following the review, freedom of information requests made by Dr Dean revealed that unrecorded meetings had taken place between the review chair and civil servants.
Dismissing claims of a cover-up, Professor Dacre says: "From Ben's perspective, I think the reason why people feel [betrayed] is because there is a group of trainees who don't trust us, who don't trust the establishment to be doing things in their best interests."
But she questions the report's recommendation to shorten the training process. "Who thought that up?" she asks.
The review offers a flexible environment, she adds, but only if clinicians can get up to that first level of competency.
Future hospitals
But what of the influence of the RCP? A year before the NHS Five Year Forward View was published in 2014, the RCP ordered its own report from the Future Hospital Commission. Chaired by Sir Mike Rawlins, the commission focused on structuring hospital care around the patient's needs.
'We've got Future Hospital written in various places. I think we've influenced policy'
The report, Future Hospital: Caring for Medical Patients, was welcomed by the healthcare community as a positive step towards better hospital care. Nuffield Trust chief executive Nigel Edwards commented that it offered "some of the most imaginative thinking" on new models of acute care.
Bold and refreshing
When Professor Dacre first took up her role as president in April last year, the report had just been published and so it rested on her shoulders to implement its recommendations.
But has the report shaped policy? "Yes", says Professor Dacre. "We've got Future Hospital written in various places, it's mentioned in the forward view and it is actually rather similar, so I think we've influenced policy."
In 2013, health secretary Jeremy Hunt told The Guardian the Future Hospitals Commission's focus on patient experience and a "buck stops here" approach for senior clinicians was "bold and refreshing".
He is now also echoing the commission's push for a seven day service.
'You can have a great big report but that is not going to affect social change'
Having already guided Betsi Cadwaladr University Health Board, Mid Yorkshire Hospitals Trust and Royal Blackburn and Worthing hospitals, in putting the Future Hospitals' recommendations into practice, Professor Dacre hopes that in phase two the RCP can offer more support.
However, she reflects: "You can change policy, you can have a great big report, but that is not going to effect social change and culture change."
Sceptical about the changes the £8bn funding pledge can bring when £22bn is needed in health economies, Professor Dacre says that the way to truly improve services is through "a social movement".
She cites Kate Granger's #hellomynameis campaign as an example. "What [Kate] did was to implement a social change from the bottom up," she says. This is how "you sustain a transformational change in a system that's creaking with no additional funds", Professor Dacres adds.
Looking to the future
As RCP president, Professor Dacre wants to become a "conduit" for the voice of every doctor - the "everyday clinician" who she admits "does not have a loud enough voice in influencing the health system".
Refusing to dwell on the past, Professor Dacre says she finds the usual questions about her gender "boring".
"Women are in leadership positions - get over it," the RCP president says.
'Women are in leadership positions - get over it'
"For the first 500 years when men were in leadership positions nobody noticed. Why is there such a fuss when there are a few women at the top?"
In her vision of the future she wants to see "training and education as techniques [used] as a change agent".
Change begins by teaching "engaged, empowered, educated physicians that the implementation of the Future Hospitals concept is every doctors' business", she says.
Professor Jane Dacre is one of HSJ's top clinical leaders for 2015 - See the full list