"Profoundly uncomfortable" that non-urgent elective work continues in the private sector as NHS faces "unthinkable pressures"
Leaked letter tells trust bosses "not to support" staff who also work in the private sector and continue to work on non-urgent cases
One senior source says private hospitals need to be "shamed" into providing more help
NHS England and senior clinical leaders in London are 'profoundly uncomfortable' that some routine elective care is continuing in private hospitals, while the NHS faces 'unthinkable' pressures from coronavirus.
In a joint letter to all the medical directors of the capital's acute hospital trusts, regional leaders ask them "not to support" their staff who are performing non-urgent work in the private sector for the next month.
Over the last month the capital has seen a frightening rise in demand from coronavirus patients, with covid bed occupancy rising from around 1,700 at the start of December to more than 7,000 yesterday.
The letter, seen by HSJ, is signed by NHS England's regional medical director Vin Diwakar, the medical directors of the Royal Free London Foundation Trust, Imperial College Healthcare Trust and Barts Health Trust, and seven other of the capital's leading clinicians.
It says: "We are in genuinely unprecedented times and the second wave of covid-19 is putting pressures on the service that only a year ago would have been unthinkable.
"In this context, with all but the most urgent elective activity postponed in the NHS in London, it feels profoundly uncomfortable to us that some elective work, that is not time critical, is continuing in the independent sector.
"We are asking colleagues to think very carefully about the appropriateness of this, and would like colleagues not to support delivery of such work in the independent sector for a period of time, a month from the date of this letter in the first instance, until vaccination and the current lockdown take effect and the pressure on NHS services eases."
In the early months of the pandemic, all private providers in London were on a national block contract with NHSE, which meant all their resources could be used as the NHS saw fit. However, this arrangement ended in August for London providers and was replaced by more piecemeal, spot contracts which allowed private firms to restart non-NHS work.
HSJ reported earlier this month, that NHS England London was attempting to get the private sector to provide more surgery for urgent cancer patients in London. On HSJ's weekly podcast, London correspondent Ben Clover revealed there were around 500 patients with cancer in the capital who needed some form of treatment within four weeks, but who did not yet have an NHS appointment.
Private sector 'taking the piss'
HSJ understands the letter arose from conversations among the medical directors of London's leading hospital trusts in which they stressed that "everybody and anybody" from the medical workforce was needed to deal with the crisis.
Many were "incensed" that the independent sector and the doctors working in it were, as they described it, "once again taking the piss and walking off with the money". They expressed the view the sector needed to be "shamed" into providing more help.
HSJ reported last month that two-thirds of the private sector capacity block-purchased by the NHS went unused by the service over the summer.
A source involved in the conversation said the collective view was that private providers should be instructing those medics working for them to only carry out "emergency or time-sensitive" procedures. If this was not possible, they should be reallocated back to the NHS to carry out any role the service thinks it needs.
It was decided that a joint letter from NHS England and senior trust leaders was the best approach as individual medical directors feared sending the message to their consultant workforce alone.
The letter says medics should not be "doing work that is in RCS category 3 or less urgent, ie procedures that can be safely delayed for more than a month."
According to priority levels published by the Federation of Specialty Surgical Associations, this includes some breast cancer surgery, some prostate cancer surgery, and trauma and orthopaedic revision surgery.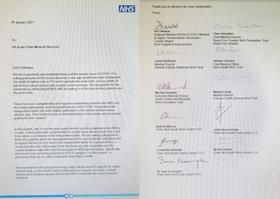 The letter to trust medical directors
The letter adds: "We hope that this will achieve two things, firstly release more independent sector capacity for urgent elective work, so the current helpful relationship can expand. Secondly, it would release some medical capacity back to the NHS to deal with the current extreme workload."
David Hare, chief executive of the Independent Healthcare Providers Network, said: "Since the end of the block-booked 'at cost' national arrangements NHS England has asked independent hospitals to focus on delivering urgent and non-urgent elective care underpinned by private activity.
"It is becoming increasingly clear that the NHS once again needs supporting in a much more significant and flexible way. That now requires an urgent reassessment by the NHS centrally of how to give local NHS systems the independent sector support they now need."
A senior source in the independent sector told HSJ the block contracts in place earlier in the year allowed private hospitals to be flexible in helping the NHS, as they did not then need to undertake activity for privately paying patients to maintain their income flows.
But when the block contract arrangements for London ended in the summer, the hospitals largely went back to their normal model of treating private payers. The source said it would be "very difficult" for those hospitals to now function properly without continuing to do non-urgent care for fee-paying patients, as there would be no income stream to replace that.
They added there are many staff, largely nurses, who are employed by and work solely in the private sector, so there would need to be a contract mechanism in place to utilise that capacity in the NHS, or else they would be left idle if all non-urgent work stopped.
Source
Letter to NHS trusts
Source date
8 January 2020