A new tool can help chief executives and business intelligence teams to see through the data fog, writes Max Jones
On this particular October morning, the view from 34,000ft was a beautiful sight. From this level the dark, wet and windswept greyness of a modern urban city was hidden behind a veil of sunshine and fluffy clouds.
From my window on the world, I saw nothing of the complexity, problems and wonder of the world below the clouds – my view was not a summary of what was below, it was a different view of a different landscape.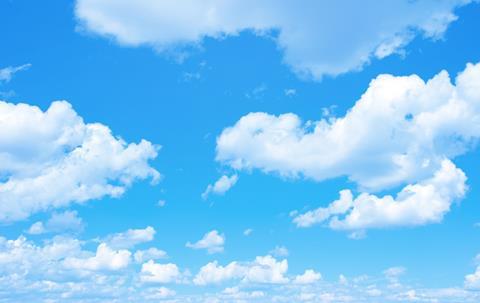 Unfortunately, this is the reality for much of the reporting that reaches today's NHS executives. Nobody would dispute that the role of the CEO in the modern NHS is immensely challenging. In a world of increasing expectation and decreasing financial flexibility, the volume of "number one" priorities is increasing.
Redefining the role of CIO
Effective CEOs build strong executive and operational teams and are governed by boards providing transparent, constructive criticism and advice. But all too often these highly talented and dedicated teams of people are disappointingly ineffective. They are swamped with reports, usually out of date, which often conflict with each other, and tend to be retrospective analyses or at best situational awareness.
All too often, the lack of effective information to enable timely operational decision making and effective governance is seen to rest on the CEO's shoulders. In reality however, it is a challenge that rests with the entire executive team and it requires a clear focus on developing genuinely useful business intelligence (BI) capabilities and redefining the role of the CIO as an agent for sustained transformation.
The GE Business Intelligence Framework has been developed to specifically address these challenges and make a radical improvement in BI as a tool for NHS executives and BI teams alike to see more clearly through the fog of data.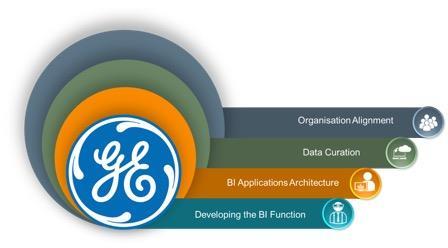 In developing great BI functions, we help our clients to focus on four key themes, each addressing a set of key questions:
Organisational Alignment: Why are you doing what you are doing if it does not add value? How are you enabling efficiency and transformation? What is the link from your BI plans to the corporate strategies?
Data Curation: how can you get a single version of the truth? Can you link data from disparate sources to present a holistic perspective? Do you have a unifying data catalogue / model?
BI Infrastructure: Are you presenting data when and where it is needed? Is it in a form that your customers can understand? Do you enable the 50,000ft view with drilldown where needed?
Developing the BI Function: How are you developing you BI function to become a key value adding part of the business? How are you developing both the individuals in the team and their ability to operate effectively as a team? Is the BI function self-aware and sighted on how they could add more value? How do you listen to your customers' needs?
The role of a modern Business Intelligence Function is to cut through the glossy façade of reassurance that endless pages of RAG status reports provide. All too often these reports are mostly red or mostly green but neither really enable action to be taken or board level assurance to be effective. Nor are they pro-active decision enablers.
To determine whether you have a Business Illusion Function or a Business Intelligence Function, ask yourself a few simple questions:
Are my major business transformation projects underpinned by quality data to allow me to measure the planned improvements and continuously improve?
Does my board reporting really support the board in executing its oversight and governance obligations?
Are my BI team clear on how they add value, and are they enjoying it? (they should be – these are exciting times in analytics)
Do all my staff understand how their team's performance relates to the corporate performance and how their data recording helps to secure better outcomes?
Do I have a BI function which is moving beyond retrospective analyses and starting to underpin real time decision making? Ideally using predictive and prescriptive analytics?
CIOs have an opportunity. Make the next 12 months the time you become your CEO's greatest ally and the best boss your BI team have ever worked for. Enable your business' transformation. Tackle all four themes above. Start small. Be agile. Build momentum. Be brave. Develop motivated teams. Deliver. Have fun.
Max Jones is a director at GE Healthcare Finnamore, specialising in technology enabled change underpinned by data, analytics, information governance and programme delivery. He can be contacted at max.jones@ge.com.