The 2012 reforms did not focus on estates but will have a huge impact on what goes where. By Nic Paton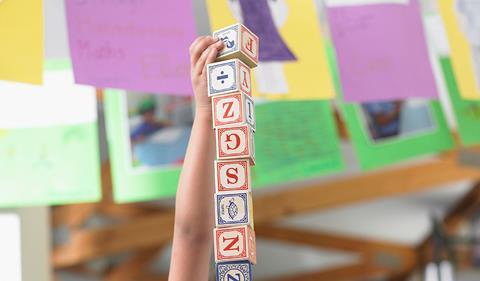 Child building blocks
Last year a policy paper by the King's Fund calculated that the floor area of the NHS estate in England would cover the City of London ten times over.
The NHS owned land totalling seven million hectares, or the equivalent of two London boroughs while total trust and primary care trust floor space was estimated at 28.5 million square acres, it added.
With the NHS in profound flux and under severe financial pressure, how this estate - a massive resource but also a massive cost - is best used is a key question for the future of the service.
Equally importantly, the big changes to England's healthcare system in the transition from primary care trusts and strategic health authorities to clinical commissioning groups and the greater integration of health and social care have put the spotlight firmly on estate and infrastructure planning, says John Bacon, chair of Community Health Partnerships, which provides estate services to the NHS.
'The NHS owned land totalling seven million hectares, or the equivalent of two London boroughs'
"To develop community-based services and to integrate services across the different health and social care agencies, you need a fit-for-purpose, properly located estate," he says.
To that end, estate or infrastructure is increasingly being viewed by commissioners as a strategic commodity, one that, much like assets such as technology or even staff, can be managed to achieve better access for patients and better efficiencies, he argues.
"There is, I think, an awareness the NHS estate is not as well utilised as it might be and it is often not in good condition. So it is about making sure you are concentrating services and using your existing estate in the best possible way as well as developing new estate," says Mr Bacon.
Pursuing best practice
But what does strategic estate and infrastructure planning actually mean in practice, and what's the best model for the NHS to pursue?
According to Richard Darch, leader at change consultancy HealthCare Partnering, strategic estate planning "is a bit like flared trousers; it is coming back in fashion".
What he means by this is that, while the 2012 reforms did not in themselves focus on estate or infrastructure, the knock-on effect has been that commissioners are having to ensure their commissioning strategies factor in issues such as the connection between quality of estate and patterns of service provision.
'You need to have some level of strategic planning in terms of location, the quality of your infrastructure and how that supports the quality of your healthcare'
"What is being increasingly recognised is that you need to have some level of strategic planning in terms of location, the quality of your infrastructure and how that supports the quality of your healthcare," he explains.
"It is about looking at what you have got, what do we want to buy in terms of services, and what have we got in terms of our estate to help us achieve this? It is about recognising that infrastructure is a major enabler for change," he adds.
In practice this can mean a multitude of things. Yes, certainly, one element can be straightforward disposal of buildings or land - and the King's Fund report highlighted the fact that disposals have already reduced unoccupied floor area to 1.5 million square metres, though there are still improvements that could be achieved. Sale and leaseback deals are another transactional option.
But at a more micro level it's also simply about using existing space better or smarter. Independent research earlier this year commissioned by CHP - of senior commissioners and practitioners - suggests the emphasis, at least in primary care, will be on "sweating" as much as disposing of physical assets.
Dr Sue O'Connell on being strategic
The NHS has witnessed the biggest reorganisation for decades and commissioners, managers and clinicians alike are facing a future of growing demands, which must be met from static or reducing budgets.
'Estate' or infrastructure is being increasingly viewed as a strategic commodity, which, like other technology assets and human capital, can be managed to achieve better access for patients and better efficiencies for commissioners and providers.
There is also recognition that there needs to be a more fundamental redesign of services and that estate, buildings and infrastructure all play a key role in making this redesign a reality, as a non-clinical intervention in care pathways.
There is growing realisation that a strategic approach to the planning, use and disposal of the primary healthcare and community estate can help tackle these challenges and drive significant savings for the NHS.
A head start has been made in the areas of England covered by the Lift (local improvement finance trust) programme, where Community Health Partnerships, NHS Property Services and the 49 local public private partnership Lift companies are well underway in supporting commissioners to develop and implement local estate plans that support CCGs' two-year operational plans and five-year strategies.
In these areas, locally led strategic estate partnership boards are being re-established to facilitate discussion, planning and decision making by bringing together the key partners in their locality.
This structured and targeted programme to support the strategic planning of the estate will deliver huge benefits - both in the short and longer term - including:
increased efficiencies, through the better use of high quality primary and community care estate;
better service integration, delivering improvements in service efficiency and better health outcomes for patients; and
new service models, replacing outmoded and inadequate premises, and releasing capital through a structured programme of disposals.
The strategic estate planning and implementation programme is evolving and the intention is that there will be robust strategic estates plans in all areas by the end of March 2015. These will support real change in the local estate and generate practical solutions that drive system-wide savings, service integration and new models of delivery.
The NHS simply cannot build more and spend money on short term fixes, without being sure they are the right solutions in the medium and long term. Hard work and a united commitment to the long term cause will ultimately create huge benefits for patients and communities alike - and that has to be worth it.
Dr Sue O'Connell is chief executive of Community Health Partnerships
Upping the numbers
The size of consulting rooms would decrease so as to increase capacity elsewhere, respondents predicted. Buildings would need to become more adaptable (for example with the space able to be used more flexibly or go up or down in size as required); and there would be an imperative to share space more with other service providers (both public health and more generally within the public services).
Within this it is important commissioners retain an element of control, meaning a joint venture capital investment model is the better way to go rather than, say, an old-fashioned PFI approach, advises Mr Darch.
"In the days of PFI there was clarity about the procurement route. Within the NHS now it is unclear how new infrastructure is going to get funded and delivered. But the joint venture route allows commissioners to have influence but also to make sure something is not completely controlled by the provider," he points out.
'The emphasis, at least within primary care, will be on "sweating" as much as disposing of physical assets'
"Commissioners need to be more aware of the importance of infrastructure as a catalyst for change; they need to be embracing it and being more involved with it, not seeing it as someone else's problem to deal with. It is a travesty that the NHS's estate is so poor," Mr Darch adds.
And that is where an organisation such as CHP can play a role, argues Mr Bacon. Following the 2012 reforms, CHP is now one of the two principal, public sector-owned organisations offering primary and community healthcare estate services to local commissioners and the wider NHS, the other being NHS Property Services. As such it can support CCGs to plan and use their estates more efficiently.
"The commissioner must be the key player in this, along with the relevant providers. It is about freeing resource through much better use of the estate. The CCGs that are thinking about this, we find, are the ones that are making significant progress," he says.
Collaborating is key
However, while CCGs do have an important role to play, it also has to be recognised that, for a strategic estate plan (SEP) to be truly effective, there has to be a genuinely collaborative, partnership approach, emphasises Juliet Hancox, chief operating officer at Coventry and Rugby CCG.
"You do have to arrive at agreement with your partners. Everyone is looking at getting rid of redundant estate right now so it can happen in a piecemeal fashion and there is a danger you end up throwing the baby out with the bathwater," she says.
'You do have to arrive at agreement with your partners'
This means not just bringing on board and consulting with those that own estate and 'brokers' such as CHP, but also functions such as IT, she contends, given the importance of technology and wifi in the modern-day estate.
"We have really benefited from having all our partners signed up to the SEP. You do have to think wider than the provider boundaries.
"If you are not careful you can just end up with a situation where each organisation has its own estate strategy rather than something that is properly joined up," she argues.
Commissioning supplement: Time to step up
1

2

3

4

Currently reading

Estates management: Building blocks of the new era

5

6

7