The NHS needs to draw on staff with the appropriate training, experience and confidence to handle this kind of situation safely
A number of the King's Health Partner's volunteers who have worked in the isolation unit in Freetown are back working in British hospitals.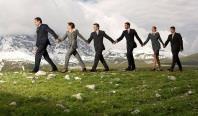 Andy Leather, director of the King's Centre for Global Health, says: "[The King's Health Partners] volunteer experience will help us respond to patients from West Africa presenting with fever – something that happens on a daily basis."
King's College London teaching fellow Oliver Johnson adds: "These staff have the training, experience and confidence to handle this safely and ensure that such patients are identified immediately, isolated safely and treated effectively.
This could be helpful if Ebola were to come to the UK, as well as providing cultural insight generally into a patient population in south London that includes many people from Sierra Leone.
'Will we continue to see health workers returned from West Africa stigmatised and undervalued?'
"The key question is whether NHS trusts will draw on these experts and embrace their experience, or whether we'll continue to see health workers who have returned from West Africa being stigmatised and undervalued."
The Ebola crisis: four lessons for the NHS
1

2

3

4

Currently reading

Ebola lesson 3: how to use volunteers' Ebola experience in the UK

5