A campaign of consistent, clear and calm messages can help overcome hysteria caused by a crisis
King's College London teaching fellow Oliver Johnson says it is really important for the NHS not to overreact, and instead to stick to the evidence around Ebola, while acknowledging it is a "scary" disease.
'Even in Britain we have to guard against hysteria'
He says: "The lesson to learn is that staff in every country get scared and that's normal, and you can't blame them.
"A lot of the battle here has been psychological: getting patients to come to hospital, getting staff to know the right questions to ask, and when they're faced with that patient, staying at their posts.
"Here there were staff strikes and times when patients who were told they had suspected Ebola literally ran out of the hospital."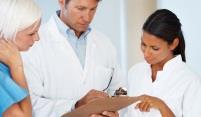 This was solved, Dr Johnson says, by a campaign of consistent, really clear, calm messaging on the radio, on television, from the health minister and most importantly, from the president, whose leadership was critical.
He says NHS staff can learn from the experience in Sierra Leone.
"Even in Britain we have to guard against hysteria and not think that we know it all. We've got a lot to learn. It's about sticking to the evidence and not letting it be governed by panic headlines or political pressures."
The Ebola crisis: four lessons for the NHS
1

2

3

Currently reading

Ebola lesson 2: dealing with the psychology of Ebola

4

5