Transforming hospital services is a grand idea, but a major service redesign will not work without a strategy for staff engagement, say Jane Warder and Ian Hall.
A plan to transform hospital services may be faultless, but when eagerly anticipated results do not always follow, what has gone wrong? This common scenario highlights the huge risk of not sufficiently involving the people who are actually responsible for implementation.
At Sherwood Forest Hospitals Foundation Trust we believe the key to success in service transformation is actively involving the frontline staff in shaping the plan itself. Staff at Sherwood have worked closely with a private sector specialist and created a whole new way of working on service transformation, building on internal and external expertise.
With an award winning new hospital delivered through the £320m private finance initiative scheme and a £260m-turnover provider employing more than 4,000 people, our ambition is to offer world class healthcare.
As part of commissioning the new hospital it became apparent that taking a totally fresh approach to service redesign would deliver enhanced service quality, operational excellence and opportunities for real cost savings. The consultancy Unipart Expert Practices was chosen as a private sector partner to bring best practice expertise across both operational and cultural dimensions.
Working with Unipart staff applied their thinking to hospital services and created a unique approach that is delivering some striking results, including:
59 per cent reduction in median time to treatment in the emergency department from arrival to treatment;
35 per cent reduction in the time it takes to recruit a new member of staff;
Reduction in the number of patients failing to turn up for appointments, including a 33 per cent reduction in endoscopy;
Increase in direct care time between nurses and patients on inpatient wards;
Over £4m of savings.
The new approach, Achieving Best Care, is a service improvement and organisational development framework that supports the delivery of the trust's pledges as well as its strategic and business objectives. ABC seeks to deliver sustainable quality and productivity benefits.
The key to its success is the involvement of staff. The solution embraces employee engagement, innovation and the application of best practice in lean thinking.
ABC is founded on the principle that to deliver the quality, innovation, productivity and prevention programme sustainably, health service leaders must shape change through enhanced engagement with staff, ensuring there is a balanced approach to operational and cultural dimensions in order to achieve continuous improvement and sustainable benefits (see diagram, top of page).
ABC provides the tools and the expertise to enable frontline staff to come up with ideas to do their job better. The knowledge base is growing, and word spreads: the ABC approach spreads in a viral as well as planned way.
All ABC workstreams are centred around an in-depth focus on staff, and planning services from a patient perspective. This takes time, particularly when there are deep-rooted and multi-factorial barriers in place.
This can in some cases require a lead time before full transformation occurs.
However, without tackling these critical human issues at the outset, sustainable success and a team continually striving for further improvement are unlikely.
The trust's in-house improvement team and a range of staff across the organisation undertake lean-based improvements and there is now limited need for external support.
ABC is a key enabler for our cost improvement plan, generating significant savings opportunities and a healthy return on investment ratio of 3:1. Some specific examples include:
increased theatre and endoscopy productivity means we can create capacity for repatriated activity or reduce the number of lists we run;
transformation of systems for managing inpatient flow and capacity means we spend less on additional winter capacity;
shorter stays means we can operate with fewer beds.
Visual management
The ABC team stress that the scale of cultural change involved in some of the improvement activities should never be underestimated. The underlying goal is to implement radically different ways of operating and managing hospital departments, with a major emphasis on visual management of performance.
This does take time to bed in. However, by working closely with staff and ensuring they understand the principles and benefits behind the new ways of working, and by providing strong management support, initial fears can be overcome.
ABC uses a wide range of tools and techniques to transform services and there is a four-stage approach to deployment (see diagram, top of page). It is designed to improve quality and, through this, drive productivity and efficiency.
In the two years since it was introduced, ABC has recorded considerable success in both areas. There has been strong support from clinical staff at all levels up to and including the medical and nursing directors and active participation in a number of workstreams from frontline clinicians.
Transforming Endoscopy
The objectives were to improve patient experience and quality of care; increase productivity to raise income or release costs; improve capacity and demand planning/management; improve employee engagement and enable sustainable continuous improvement.
Actions
Launch sessions to agree workstream objectives and focus on improving staff engagement
One to one "voice of the customer" interviews with stakeholders to understand critical success factors around quality
Visits to observe current working practices and complete a current state value stream map
Patient focus groups to complete a patient journey map and identify feelings and emotions from the patients' perspective
Feedback from diagnostic phase to all stakeholders and confirm an implementation plan with targeted, measurable results against an agreed milestone plan
The design focused on developing a culture of continuous improvement by improving engagement and equipping endoscopy staff with the skills to solve problems
ABC tools used included
Communication cell to support team working and continuous improvement
Visual management and 5S "well organised department" principles to make more efficient use of time
Failure reason code tracking through launch of the managing for daily improvement programme
Standard operating procedures for key processes, including room turnaround to achieve a seven minute turnaround
Improvements being realised
Revised timetable enabling 25 per cent productivity improvements
Reduced waiting times for patients after arrival
Increased staff engagement scores
36 members of the team trained in ABC tools
Positive feedback from team members and evidence that a cultural change is occurring, eg, staff solving problems at their level
Room turnaround reduced and consistently hitting the seven-minute standard.
Decreased did not attend and patient cancellation rates (see below bar chart)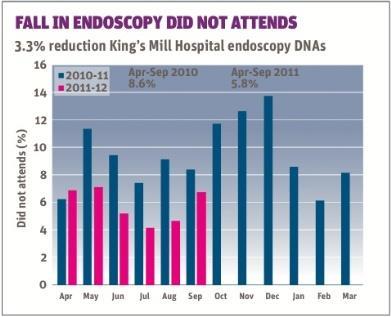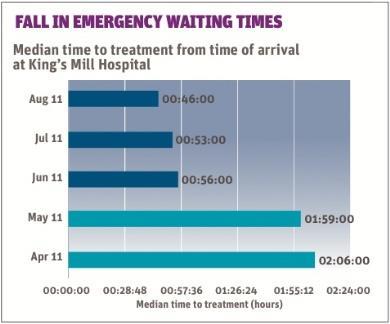 Transforming patient flow and capacity
The purpose of this programme of work was to improve patient experience and clinical effectiveness by ensuring patients are in the right place at the right time; release senior nursing time from managing beds to focus on quality of care; reduce expenditure on additional inpatient capacity by 40 per cent; and equip staff at all levels to effectively manage patient flow and capacity.
Actions
Designed and implemented a highly innovative, visual approach to managing inpatient flow and capacity for the whole hospital.
Improvements being realised
A very encouraging improvement in performance has transformed the way we manage beds and inpatient capacity, including:
59 per cent reduction in median time to treatment in the emergency department from arrival to treatment (see above graph)
56 per cent decrease in the number of patients who stay on the emergency assessment unit in excess of internal standards
Positive feedback from all parties involved in managing patient flow and capacity
Find out more
Sherwood Forest Hospitals Foundation Trust
The trust's YouTube channel includes more on Achieving Best Care