A large acute trust with a history of governance problems has been rated good for being well led in its latest inspection report.
It is the first Care Quality Commission inspection of Heart of England Foundation Trust since a succession of regulatory interventions and leadership changes in 2014 and 2015.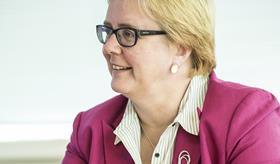 The inspections were carried out in September and early October last year, about a year after University Hospitals Birmingham Foundation Trust chief executive Dame Julie Moore was appointed to lead both trusts.
Heart of England and UHB are now in the process of merging.
The CQC inspection only gave an overall rating of the trust in the well led domain, as a different mix of services were inspected in 2014. The CQC has left the trust's overall rating as requires improvement.
At the trust's three hospital sites there was improvement in emergency services, critical care, surgery and medical care, and none of the services had deteriorated.
Several community services, which had not previously been inspected, were rated as good.
The inspectors noted that the leadership changes had been popular with staff, who felt more involved in shaping the trust's direction, though less so in community services.
"We saw a strong theme of improvement and control from the new leadership of the trust," the CQC report said.
However, the report also said further improvements were needed at the trust. These included management of medicines at two emergency departments, security at the Castle Cale Renal Unit and better infection control practices.
The trust said in a statement: "Whilst there remain some key areas where we need to continue to work hard to improve, there are also many areas of excellent practice. It is fair to say significant progress has been made and the trust continues to move in a positive direction."
Heart of England reported a £11.6m deficit in 2016-17, which was within its control total, and dramatic improvement from the £46m deficit the previous year. However, this performance was heavily supported by £25.2m of non-recurrent sustainability and transformation funding.