A new approach to community services in Nottingham is changing the way care is delivered to older people and providing tangible social benefits. Stephen Upton and Adele Cresswell explain how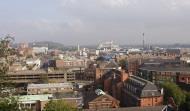 The Nottingham CityCare Partnership
is a social enterprise delivering community healthcare. It has introduced a new approach to working.
Qualified nurses, social workers, occupational therapists and physiotherapists are all trained in each other's disciplines up to the level of a general assistant practitioner. This may sound simple, but it is in fact ground-breaking and makes sense to a person in crisis.
In practice it means, for example, a nurse can undertake a full nursing assessment during a visit and, while there, sort out basic occupational therapy issues such as equipment to get in and out of bed or to cook safely in the kitchen.
Similarly, a physiotherapist could teach an exercise programme and do a basic tissue viability assessment at the same time. We call this holistic practice, and this is the model used within CityCare's crisis response team.
A new team
In 2009, a pilot was established to redesign an existing intermediate care team into a new crisis response service. The challenges in meeting the needs of Nottingham's older population were considerable.
The city's population included 39,200 over-65s registered with general practices. Of these, 18,200 were living with one or more long term conditions. Of the 38,708 emergency admissions in 2008-09, 11,182 were patients over 65 and out of these 7,198 had a hospital stay of more than two days.
The new team aimed to provide an immediate response when a health and/or social care emergency happened in the community, with the aim of preventing admissions to hospitals or care homes. The service would assess the situation, provide immediate interventions and ensure arrangements for follow up health and social care support were in place. The response time was a maximum of four hours, and the transfer to services for ongoing support was 48 hours.
'Most people have multifaceted health and social care issues rather than a single straightforward clinical or social problem'
The initial team had a limited number of qualified professional staff. The health component consisted of a nurse, a physiotherapist and an occupational therapist.
The local authority provided a community care officer to address social care needs. A number of health and social care support staff worked alongside the professional staff as part of the wider team.
Prepare for the unexpected
When the pilot started to receive referrals the challenge of preparing for unexpected events became apparent. It became clear that each crisis was different, and required a tailored response. Staff became increasingly anxious regarding their individual ability to respond to the wide range of situations they were experiencing. In addition, the service struggled to provide the right clinician at the right time to meet the individual or family's presenting emergency.
For example, someone experiencing a healthcare crisis relating to nursing needs would have their initial assessment done by a different professional if the nurse in the team was already busy responding to another situation.
The team had also begun to notice a pattern. Most people had multifaceted health and social care issues, rather than a single straightforward clinical or social problem. Each single need at assessment tended to be at a lower level than originally expected − it was the combination of needs and the resultant dynamics in the home that created the crisis.
'Establishing a workforce development approach gave each individual a basic grounding across the professions of their colleagues'
The demand on the limited pool of expertise, coupled with the concerns of the individuals on the limits of their abilities and the spectrum of presenting needs, led to a new idea. Radical change was the only way to meet the needs of the people using the service. The holistic practitioner role was created.
The team decided to establish a workforce development approach to give each individual a basic grounding across the professions of their colleagues. The national assistant practitioner competency framework offered a set of core skills.
Core competencies
The Skills for Health website helped establish a framework to introduce the national core competencies combined with a set of discipline specific skills. The whole team took part in the design, each identifying skills that they would teach to their colleagues.
The next step was to develop a training framework, which included occupational therapy, physiotherapy, nursing and social work. Core elements from each profession's national competency framework up to a band 4 level were included.
'A deeper understanding of each other's profession and contribution has led to a greater valuing of skills'
No one would be expected to perform degree qualification level activity outside their own discipline. Team members delivered the training, and trainees were assessed for theoretical understanding and practical safety.
Finally, each professional assessed their colleagues' competence to practice core skills within his or her own discipline; this was seen as the most important factor.
The service is commissioned by Nottingham Clinical Commissioning Group and this new way of working was not easy at first. There were concerns around professional identity and a worry about becoming too "generic". These initial worries have given way to a hugely positive impact on the team, especially in terms of the responsiveness of care.
All agree that their individual confidence levels have improved since being practically equipped to manage unexpected situations and respond to the complexity of most crises. The original fear that there would be a "watering down" has been negated. Rather a deeper understanding of each other's profession and contribution has led to a greater valuing of skills.
The main intention of the project was quality of outcomes but part of the end result was the release of resources. More can be done in a single visit and less time is taken in referring between disciplines.
No going back
For years, people have told health and social care providers that too many people are involved in their care. If this holistic style of working was widened beyond crisis response, it would reduce the number of different professionals going into people's homes.
It would allow relationships to develop and a greater understanding of what is important to the person rather than just what is important for them. CityCare is exploring the development of this model in consultation with the Nottingham City Council as part of its integrated care programme.
What evidence do we have regarding the success of the new approach? Certainly team members have reported greater job satisfaction, as they now feel more prepared to take on daily challenges and to do more for each person they work with.
One nurse, when asked what it was like to be "the nurse" in the team, said: "You should have asked me that on Monday when I was mainly being a nurse. Today I have spent the morning being a social worker and the afternoon as a physiotherapist."
'Provide staff with the support to be multiskilled, holistic practitioners and change the way in which we deliver care to our communities'
She says she never wants to go back to her previous way of working − she now has more freedom to help, which was why she became a nurse in the first place. When the team was developing its approach it developed its own mantra: "If I knew how to do what you can do, I could do my job better."
Health and social care integration is now the next step to improve our service delivery across England. Truly integrated working takes place through the fingertips of our workforce. It is our dedicated, hardworking, committed and compassionate staff that have the power to make the citizen's experience of health and social care a radically different one.
Provide staff with the support to be multiskilled, holistic practitioners and change the way in which we deliver care to our communities.
In short, let's start to deliver healthcare through the lens of the social care model. Let's combine the very best of what we offer through each moment that passes by every day when we care for people who need help. It is during these moments that the power to revolutionise the care we offer older people lies.
Stephen Upton is programme manager, service transformation − adult and children's services at Nottingham CityCare Partnership and Adele Cresswell is a researcher at Nottingham University