Shadow health secretary Andy Burnham has confirmed he wants health and wellbeing boards to be accountable for new 'year of care budgets' which would cover the 'health and social care needs' of those 'at the greatest risk of hospitalisation', but added that the funds would 'be paid to an NHS preferred provider'.
Mr Burnham was speaking to reporters ahead of major speeches by Labour leader Ed Miliband and himself in which they will unveil the party's 10 year plan for the NHS.
A party briefing on the issue said: "Labour will introduce a new 'year of care' budget for health and social care needs under which providers will have to bear the costs if the health of patients deteriorates and they need expensive hospital care. By changing the financial incentives in the system this will stop services that rely on 15 minute visits [from local authority funded social care staff]".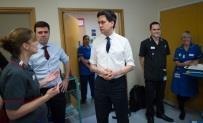 Labour also hopes the new approach will reduce the growth of hospital admissions.
Mr Burnham is expected to say in his speech on Tuesday: "If social care in England is allowed to collapse, it will drag down the rest of the NHS. [It] is a root cause of the crisis in [accident and emergency]. For the want of spending a few pounds in people's homes on decent home care, we are spending thousands of pounds keeping older people in hospital, even when they are able to leave. The increasing hospitalisation of older people is no vision for the ageing society."
In his conversation with reporters on Monday he said: "We are going to work through the organisations that we inherit. We're not going to impose a timetable on people, but there has to be a partnership at local level between NHS and local authorities if this is to succeed. But that's not to say the pressure's off. The quicker they embrace full integration, single budget commissioning [the better]."
"NHS preferred providers" would go on a "journey", he said, in which they would begin "to employ social care staff, with home, not hospital, being the default setting for care".
He also confirmed his desire to "work towards the notion of a single [health and social care] budget; a single budget for children and then a single budget for adults".
Much of the detail expected in the speeches has already been announced, including the plans to recruit extra GPs and nurses. However, a new announcement concerns the creation of a "new arm of the NHS". It will be comprised of 5,000 "homecare workers" employed within the health service.
The party said the homecare workers would focus on "those with the greatest needs, including the terminally ill so they can stay with their family at the end of life, and those who are leaving hospital who need extra help if they are to move back into their homes".
There is as yet no detail on the training and qualifications these employees would have, what kinds of organisations would employ them, or how much they would be paid.
Labour has pledged to pay for these new employees with a previously announced mansion tax, a levy on tobacco firms and a crackdown on tax avoidance.
The 10 year plan will also bring in "tougher controls on hospitals increasing their focus on private patients to ensure they always put NHS patients first".
Speaking to reporters, Mr Miliband said: "What people most want for the health service is a sense of a plan, of a vision of the future."
In his speech he is expected to say: "We can only join up the services when we have the right values at the heart of our NHS: care, compassion and cooperation, not competition, fragmentation and privatisation. These aren't the values of our National Health Service. These aren't the values of the Labour Party. These aren't the values of the British people."
Labour has previously pledged to repeal parts of the Health and Social Care Act 2012, in which the controversial section three made many existing NHS rules on competition statutorily enforceable.
Mr Burnham is also set repeat his desire to reorder the priorities of the service and is expected to say: "Our aspiration is to create a service that supports people with dementia, autism and mental ill health as well as it treats cancer."
Full details of the Labour plan will be reported by HSJ on Tuesday. HSJ's rolling news service, HSJ Live, will track reaction to the announcements. Readers may also want to follow @HSJNews for the latest updates.