The 2014 winners and finalists unveiled
The Patient Safety and Care Awards - a joint initiative of HSJ and sister title Nursing Times - are a celebration of staff who have created or contributed to excellent healthcare initiatives that have made care safer and better quality for their patients and service users.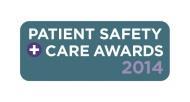 They showcase services that have been redesigned to put the patient truly at the centre of the care. These transformations have shown impressive results in patient and family satisfaction, and outcomes for patients.
This year's winners and finalists were celebrated at a ceremony at Grosvenor House in London's Park Lane last night.
Join the discussion on Twitter using hashtag #psawards
Jenni Middleton, editor of Nursing Times said: "Those organisations shortlisted here tonight have listened to the feedback of service users and patients, thought about where they could make improvements that will have dramatic benefits to patient outcomes, and transformed the way they deliver care.
"But what separates them from their peers is that they have done so with the involvement of every single member of the team."
A huge congratulations to all our finalists and winners.
The 2014 winners and finalists
Respiratory Care
Winner
Walsall Healthcare NHS Trust: Discharge of Children with Asthma
Finalists
KSS Respiratory Network, KSS AHSN: Breathing Matters
KSS Respiratory Network, KSS AHSN: Elective Oxygen Titration Before Reaching A/E (A Joint Project of the KSS Respiratory Network and SECAmb)
Newcastle-upon-Tyne NHS FT: An Integrated Model of Specialist Palliative Care for CF
NHS Nottingham City Clinical Commissioning Group: Transforming Respiratory Care - Nottingham City Integrated Respiratory Service
Sheffield Teaching Hospitals: The Sheffield Pulmonary Vascular Disease Unit: A One-Stop Approach to a Life-Limiting Illness
Cancer Care
Winner
Sheffield Teaching Hospitals NHS FT: The Sheffield Cancer Survivorship and Late Effects Service: A Multiprofessional Approach to Care
Finalists
BUPA: Bupa's Oncology Service
Central Manchester University Hospitals NHS FT: Patient Safety in Acute Cancer Care
The Christie NHS FT: Acute Oncology Management Service (inc. the Hotline)
The Christie NHS FT: The Dementia Team - Dementia Care in a Cancer Setting
City Hospitals Sunderland NHS FT: Macmillan Prison Chemotherapy Project
East Midlands Strategic Clinical Network: GP Train the Trainer and Appraiser Educational Workshops to Improve Cancer Awareness
Plymouth Hospitals NHS Trust: Acute Oncology Service
Plymouth Hospitals NHS Trust: Plymouth Prostate Cancer Homecare Service Pilot
Walsall Healthcare NHS Trust: Cancer and Palliative Care Outreach Information and Support Services – MOSAM group
Cardiac Care
Winner
University Hospital of North Staffordshire NHS Trust: Cardiac Rehabilitation Across North Staffordshire
Finalists
Forth Valley Royal Hospital: Spending Precious Time at Home
Lincolnshire Community Health Services NHS Trust: Heart Failure In-Reach Service
South Tees NHS FT, James Cook University Hospital: South Tees Blackout Service: Shining ­a Light on Blackouts – A Collaborative Approach
Southern Health NHS FT: Fareham & Gosport and South East Hampshire Community Heart Failure Service
Spectrum Community Health CIC: Spectrum Community Health CVD Project Team – HMP Wakefield
United Lincolnshire Hospitals NHS Trust: The Lincolnshire Heart Centre
Prevention of Avoidable Harm
Winner
Belfast Health and Social Care Trust: My Choking Story
Finalists
Bromley Healthcare: Gillian Harman and the Leg Ulcer Service
Chelsea & Westminster Hospital NHS FT: Medication STOPIT tool
Devon Partnership Trust: Reducing Harm Associated with People Going Absent From Acute Mental Health Units
North Bristol Hospital Trust: Reducing Surgical Site Infection
Nottingham University Hospitals: Safe Surgery Team
QEH King's Lynn NHS FT: SafeTwire Guidewire – Guiding the Future to Safer Central Venous Cannulation
Salford Royal NHS FT: Sustained Reduction in Peritoneal Dialysis Peritonitis
University Dental Hospital Manchester: Preventing Wrong Tooth Extraction
University of Leicester, University Hospitals of Leicester NHS Trust and Health Education East Midlands: Effective Prescribing Insight
Dementia Care
Winner
Kingston Hospital NHS FT: Transforming Dementia Care at Kingston Hospital
Finalists
Bexhill Consortium of Practices: A Primary Care-Led Memory Assessment Service
Cumbria Partnership NHS FT: Memory Matters – Carlisle
Dementia Services Development Centre
Hale Place: Enhancing Lives
Lancashire Teaching Hospitals: The Older People's Programme
Northumberland, Tyne and Wear NHS FT: Delivering Improved Dementia Care ­
Salisbury NHS FT: Engage
University Hospitals of South Manchester: Case Management Service Summary
South West Yorkshire Partnership FT: Multi-Professional Diagnostic Forum (MPDF)
Diabetes Care
Winner
Sheffield Teaching Hospitals NHS FT: Sheffield Diabetes – Footcare Team
Finalists
Berkshire Healthcare NHS FT: Tailoring IAPT Psychological Interventions for People with T2 Diabetes
The Black Country Partnership NHS FT: Improving Diabetes Management for Mental Health and Learning Disabilities Inpatients
Cwm Taf University Health Board: ThinkGlucose in Cwm Taf
The Hillingdon Hospital NHS FT: Keeping our Young Diabetics Safe
NHS Newham Clinical Commissioning Group: Newham Community Prescription
Nottingham University Hospitals NHS Trust: Improving care of Inpatients with Diabetes
Royal United Hospital Bath NHS Trust: Acute Diabetes Team
Sheffield Teaching Hospitals NHS FT: Working with Insulin, Carbs, Ketones & Exercise to Manage Diabetes (WICKED)
Mental Health
Winner
Community CAMHS and South Tyneside NHS FT: With a Little Help from "Fun Friends" Children can Overcome Anxiety
Finalists
Big White Wall
Cwm Taf Local Health Board: NHS Wales Quality Assurance Team
Cygnet Health Care: Collaborative Risk Assessment and Safety Planning
Manchester Mental Health and Social Care Trust: Dual Diagnosis and Out of Your Head
Mental Health Care Partners in North and East London: Building Capacity & Competency for Mental Health in Primary Care
Merseycare NHS Trust: High Secure Recovery Champions
Sheffield Health & Social Care NHS FT: Respect Training and Cultural Change
South Essex Partnership University FT: The Prevention of Avoidable Deaths as a Result of Physical Deterioration
University Hospital Bristol NHS Trust: STITCH Self-Harm Project
Education and Training in Patient Safety
Winner
Perinatal Institute: Improving Safety in Maternity Care through­ a National Programme of Education and Training
Finalists
Great Ormond Street Hospital: EQUIP
Health Education East of England: The Dementia Care Coach Programme
Health Education East of England: Quality Improvement Fellows Programme
Mid Yorkshire Hospitals NHS Trust: Using Simulation to Enhance Learning from Clinical Incidents
NHS England: Hertfordshire and South Midlands Area Team Quality Collaborative
Northampton General Hospital: Aspiring to Excellence – Fresh Eyes on Patient Safety
Northern Devon Healthcare NHS Trust: Creating a CAFE culture – Moving Towards a Cardiac Arrest-Free Environment
Northern Devon Healthcare NHS Trust: Enhancing Patient Safety Through Patient Safety Review Workshops
Peninsular Academic Health Science Network: The South West F1 Quality Improvement Programme
University of Leicester, University Hospitals of Leicester NHS Trust and Health Education East Midlands: Effective Prescribing Insight for the Future
Quality of Care
Winner
Hale Place Care Solutions: Excellence is the Standard
Finalists
Coventry and Warwickshire Partnership NHS Trust: Ashby House Respite Care Service
Derby Hospitals NHS FT: Volunteering and Intergenerational Care Prove it's the Small Things that Make the Biggest Difference
Derby Hospitals NHS FT: Making Your Moment Matter
James Cook University Hospital: Delivering Quality‑and Safe Care for Patients through Seven-Day Physiotherapy Service
Leeds Community Healthcare NHS Trust: High Quality Care for All - Don't Let the Wall be a Barrier
NHS England: Hertfordshire and South Midlands Area Team Quality Collaborative
Oxleas NHS FT: Healthy Ageing Nursing Team
Sheffield Teaching Hospitals: Discharge to Assess (D2A)
Wrightington, Wigan and Leigh NHS FT: Wigan's Quality Champions
End-of-Life Care
Winner
County Durham and Darlington FT, Macmillan, Care UK and NHS England Health and Justice: Improving Palliative and End-of-Life Care in the Prison Service
Finalists
Bromley Clinical Commissioning Group and St Christopher's Group: Bromley Care Partnership Coordination Centre
Care UK: Not Dying in Chains
Derby Hospitals NHS FT: Partners in Care – One Chance to Get it Right Creating Memories which Last Forever
Macmillan Cancer Support: The Midhurst Macmillan Community Specialist Palliative Care Team
Southport and Ormskirk Hospitals NHS Trust: Seamless Service in a Seaside Town
Sue Ryder: Bedfordshire Partnership for Excellence in Palliative Support (PEPS)
Wrightington, Wigan and Leigh NHS FT, Salford Royal FT & Bolton NHS FT: Bereavement Alliance – Every Patient, Every Time
Improving Safety in Medicines Management
Winner
Evelina London Children's Hospital, Guy's and St Thomas' NHS FT: Safe Administration of Opiates in Children
Finalists
GOSH: i-MAP…Improving Medication Administration and Prescribing
Heart of England NHS FT: Using a Novel Real-Time Medication Dashboard to Improve Antibiotic Safety
Marie Curie Cancer Care: Medication Administration Errors: Nurses are the Key
Norfolk and Suffolk NHS FT: SystemTDM®
North Bristol NHS Trust: Reducing the Incidence of "Missed Doses"
Northumbria Healthcare Trust: Optimising Medicines. Involving Residents
Royal Cornwall Hospitals NHS Trust: Microtest Guru Medicines Reconciliation
Salford Royal NHS FT: Improving Prescribing Accuracy on Admission
University Hospitals Bristol FT: Reducing the Incidence of Omitted Critical Medication
Musculoskeletal Care
Winner
Pilgrim Hospital, (United Lincolnshire Hospitals NHS Trust) Boston, Lincolnshire: Reinventing Hip Fracture Care
Finalists
Bolton Hospitals NHS FT: A&E Physiotherapy Service
Central Manchester University Hospitals FT: The Management of Persistent Low Back Pain in Community MSK Services: The "Back to Fitness" Rehabilitation Programme
The Horder Centre: If Only We Could Bottle It
Imperial College Healthcare NHS Trust: Albert Ward
Warrington and Halton FT: Fractured Neck of Femur Project Group
Safety in Surgical Recovery
Winner
Royal United Hospital Bath NHS Trust: Improvement in Perioperative Hypothermia Using the Model for Improvement
Finalists
BMI Healthcare: ERP Multidisciplinary Group
Ipswich Hospital NHS Trust: GI and General Surgery Team/SAS Tutor, Ipswich Hospital
James Cook University Hospital: Delivering Safe Patient Care in Cardio-thoracic Surgical Recovery through 7-Day Physiotherapy Service
North Bristol NHS Trust: Reducing Surgical Site Infection
Wrightington, Wigan and Leigh NHS FT: A Pathway to Success in Reducing Infection in Women Undergoing Caesarean Section
Stroke Care
Winner
West Suffolk NHS FT: ESOT: Fast Response, Specialist Care, Every Day
Finalists
NHS Borders: Pursuing Excellence in Outcomes for Patients with Stroke
North East London FT on behalf of the National Anticoagulation Initiative: A National Initiative for Stroke Reduction in Patients with Atrial Fibrillation
Pennine Care FT Bury Stroke Team
Managing Long-Term Conditions
Winner
Salford Royal Hospital FT: The SRFT Renal Young Adult Clinic – a Relationship-Centred Approach to Care
Finalists
Accelerate Health CIC: Moving from Illness to Wellness – Managing Wounds and Lymphoedema
Berkshire Healthcare NHS FT: Talking Health – An Innovative Service Providing Psychological Support for People with Long-term Conditions
CSH Surrey: Integrating Mental Health with Community Matron Services to Improve Patient Safety
Derby Hospitals NHS FT: Skype Technology Puts Home Dialysis Patients Back in Control of Their Lives
GSTT Community Health Services: Transformation of South East London's Amputee Rehabilitation­ Pathway
Lincolnshire Community Health Services NHS Trust: A Long-Term Solution for a Long-Term Condition
Plymouth Hospital NHS Trust: Promoting Patients' Independence
Sheffield Teaching Hospitals NHS FT: The Sheffield Integrated Care Team Virtual Ward Trial
Technology and IT to Improve Patient Safety
Winner
Royal Wolverhampton Hospitals Trust: SafeHands – Using Real Time Locating to Improve Patient Safety
Finalists
Comtact Healthcare: Supporting Patient Safety through Digital Healthcare
Croydon Healthcare NHS Trust: Getting it Right Every Time
Derby Hospitals NHS FT: New "Training Passport" App for Hospital Staff will Help Protect Patients
Dr Toolbox/Health Education England: Dr Toolbox - Enabling Trainees
Hull and East Yorkshire Hospitals NHS Trust: Adoption of Technology Improves Patient Safety and Increases Direct Care Time
North West London Hospitals NHS Trust: Implementation of an Electronic Whiteboard System
Northern Lincolnshire and Goole NHS FT: Using Smart Locks to Improve Medicine Security and Release Time to Care
Wessex Trauma Network: Major Trauma Triage Tool Smartphone App
Changing Culture
Winner
Sheffield Teaching Hospitals NHS FT: The Sheffield Microsystem Coaching Academy
Finalists
Bolton Clinical Commissioning Group: Developing a Patient Safety Culture in Primary Care
Cambridge University Hospitals: Maintaining a Safety Culture in Theatres
Northern Devon Healthcare NHS Trust: Creating a CAFÉ culture: Moving Towards a Cardiac Arrest Free Environment
Ormskirk Hospital: Compassionate Conversations
The Salford Royal Hospital FT: The SRFT Renal Young Adult Clinic – An Innovative, Relationship-centred Approach to Care
University Hospitals Coventry and Warwickshire NHS Trust: Getting Emergency Care Right – A Change Programme
University Hospital Southampton: Dr Juliane Kause
Clinical Leadership
Winner
United Lincolnshire Hospital Trust: Theophilus Joachim
Finalists
Blackpool Teaching Hospitals NHS FT: Integrated Care Through the Development of a Families Division
Derby Hospitals FT: Keep Me Safe – Derby's Clinical Leadership Drives Sustainable Safety Improvements and Culture Change
Devon Partnership NHS Trust: The Quality Improvement Academy
Ipswich Hospital NHS Trust: Project Omer
NHS Nottingham City CCG: Practice Makes Perfect – Nottingham City Peer Support and Practice Visits Programme
Northern Devon Healthcare NHS Trust: Creating a CAFÉ culture – Moving Towards a Cardiac Arrest Free Environment
Nottingham University Hospital NHS Trust: Caring Around the Clock – Leadership Rounding
Perinatal Institute: A National, Evidence-Based Programme for Reducing Adverse Outcomes­in Maternity Care
South East Coast Ambulance Service NHS FT: The Cardiac Arrest TF Team
SSP Health: Continuity of Delivery of Safe Patient Services in the Face of TUPE and Financial Challenges
Patient Safety in the Care of Older People
Winner
Central Eastern Commissioning Support Unit: Mountnessing Court – Dementia Reablement
Finalists
Blackpool Teaching Hospitals NHS FT: Community Care Pathways (Pathfinder)
Burton Hospitals NHS FT: Preventing Falls through Reviewing Medication and Nursing Ownership
The Christie Hospital NHS FT: The Dementia Team - Dementia Care in a Cancer Setting
East Kent Hospitals University NHS FT: Safer Clinical Systems
South Tyneside NHS FT: The Community Falls Service
South Worcestershire Clinical Commissioning Group: Enhancing the Quality of Care in Care Homes
ULHT: Pilgrim Hospital Hip Fracture Project
Walsall Clinical Commissioning Group and Walsall Healthcare Trust
Wrightington, Wigan and Leigh NHS FT: Dementia: The Acute Story So Far…
Patient Safety in Hospital Care
Winner
Kent & Medway NHS, Social Care Partnership Trust & EKHU NHS FT: SMaRTer Care for Patients with Mental Health Symptoms in the General Hospital
Finalists
Ipswich Hospital NHS Trust: GI & General Surgery Team, Ipswich Hospital
Mid Essex Hospital NHS Trust: Trigger Response Team
Nottingham University Hospitals NHS Trust: Recognise and Rescue: A Hospital-Wide Collaboration
Royal Manchester Children's Hospital, Central Manchester University Hospitals NHS FT: "Early Warning" Neurological Chart
Royal United Hospital Bath Trust: Acute Diabetes Team, RUH, Bath
Royal United Hospital Bath Trust: Improving Hydration in an Acute Setting
South Tees NHS Trust: Therapeutic Care Volunteers – Delivering a Safe and Compassionate Patient Experience
South Tyneside NHS FT: Patient Dependency Tool