Sir David Dalton has been named the top NHS provider chief executive in 2015.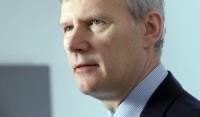 The Salford Royal Foundation Trust chief executive is number one in HSJ's second annual list of the exceptional chief executives leading NHS provider organisations.
It was the first time our judges have ranked their top 15 leaders from the 50 in the HSJ Top Chief Executives.
Other leaders in the top 15 included:
Sheffield Teaching Hospitals Foundation Trust's Sir Andrew Cash;
University Hospitals Birmingham FT's Dame Julie Moore;
Andrew Foster at Wrightington, Wigan and Leigh FT; and
Claire Murdoch of Central and North West London FT.
The 15 names were revealed in a countdown on Twitter yesterday afternoon, followed by the all 50 names on the list being unveiled exclusively on the HSJ app.
HSJ Top Chief Executives 2015
A third of the chief executives in the list are new entries, including Cambridge University Hospital FT's Keith McNeil and Imperial College Healthcare Trust's Tracey Batten.
Compared to 2014, there are more community trust chief executives and women in the top 50.
HSJ editor Alastair McLellan said: "The last 12 months have been something of an annus horribilis for the NHS provider sector with the perfect storm of squeezed income, increasing demand, pressure from regulators and even an unprecedented row over the tariff.
"Many well thought of provider chief executives have seen their organisations fall into deficit or rated as inadequate or requiring improvement by the Care Quality Commission. Public scrutiny and criticism of their actions has never been more intense. There has continued to be a steady stream of departures from the top job at NHS trusts, many deciding now is the right time to retire, others pushed by regulators.
"It is in this context that the really excellent chief executives shine. Our second annual list of the NHS's leading provider chief executives contains many who have confronted difficulties in their own organisations which have bested more than a few of their counterparts. A defining characteristic appears to be a clear vision of what the future will look like – so that even in the most difficult periods their teams always have a sense of mission and hope for the future. Some have influenced the national scene while others are leading the transformation of their local health economies. Many are doing both."