Winners to be announced on tablet app
On Wednesday evening the Grosvenor House Hotel in London will host the 2013 HSJ Efficiency Awards.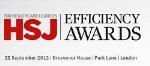 The awards recognise innovative measures which reduce costs while maintaining the highest standards of patient care. There are 152 organisations on the shortlist across 21 categories.
For those who cannot make it, the winners will be announced in full on the night exclusively on the HSJ tablet app. They will then be published on hsj.co.uk at 9am on Thursday 26 September. You can also follow the event on Twitter #HSJEfficiency.