Evelina London will be in control of its own £185m budget
New 18-bed cardiac ward and a 10-bed high dependency unit to open in January 2018
Extension will make the hospital "significantly bigger than twice the size" it is now
A top teaching trust has granted semi-autonomy to its outstanding-rated children's hospital, to give it "more clinical ownership", HSJ can reveal.
Guy's and St Thomas' Foundation Trust set up Evelina London as a "strategic business unit" with formal devolution of authority on 1 April.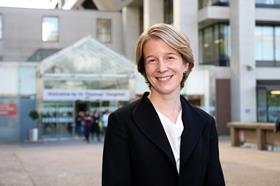 The trust says this means the Evelina will operate as "'an organisation within an organisation", in control of its own budget and decision making, but still answerable to – and part of – the trust.
Under the new arrangements the Evelina has its own budget of £185m for 2017-18.
It also has its own management committee of 30 people who will report to the trust board; its own executive team; and its own director, Marian Ridley, who has been the Evelina's director since 2013.
The trust intends that the new arrangement will allow the Evelina team to make its own strategic and financial decisions while still fitting in with the plans of the trust overall.
Amanda Pritchard, chief executive of GSTT, told HSJ: "You need to give people permission to do stuff. It is important that we have leadership capacity, clinical capacity, research capacity and academic capacity within the Evelina to drive thinking… it is about thinking creatively about what children need, as specifically different from what adults need."
The children's hospital will continue to be regulated as part of the trust by the CQC and NHS Improvement. GSTT will take full responsibility if mistakes are made in patient care, and all staff will continue to be employed by the trust.
HSJ can also reveal that the Evelina will convert offices into a new 18-bed cardiac ward and a 10-bed high dependency unit, due to open next January. This will include a second MRI scanner, a procedure room, a new outpatient suite and a clinical research facility.
In the next 5-10 years, the trust plans to build an extension to the Evelina, which will create a hospital Ms Ridley said will be "significantly bigger than twice the size of what we have".
The strategic outline case for the extension has been approved by the trust board.
A reconfiguration of the way that children's services are delivered in south east London is likely following the expansion.
Ms Ridley said: "It is absolutely not about sucking all children's hospital activity from across the geography. But it would require reconfiguration of some things that are currently happening in other hospitals, in particular children's cancer and children's neurosurgery."
Meanwhile, the Evelina is examining how it can work locally to improve primary care for the 120,000 children and young people in Lambeth and Southwark.
It is working with commissioners, local authorities, GP federations, King's College Hospital FT and South London and the Maudsley FT, through the Children and Young People's Health Partnership, to reduce demands on hospital care and move work into the community.
The project, which will run until 2019, is building specialty teams in the community with paediatricians and children's nurses working alongside GPs and primary care nurses to provide joint clinics.
The initiative has been funded by the Guy's and St Thomas' Charity.
Source
Board papers and information provided to HSJ
Source date
March/April 2017