Trust chief executive Suzanne Rankin draws on her nursing experience in a war zone to help empower her NHS staff. Jennifer Trueland tells her story
In some ways, managing a hospital is a bit like running a military operation – both involve the same sort of leadership challenges.
That is the view of Suzanne Rankin, chief executive of Ashford and St Peter's Hospitals Foundation Trust, and former senior nursing officer in the Royal Navy.
In both, the key is to enable staff throughout an organisation to flourish, feel empowered to make decisions, and deliver the best service possible, believes Ms Rankin.
'We're dealing with rising demand and coping with uncertainty. Resilience is important'
"When you're running a hospital, the complexity is really high, there are many moving parts, you're managing risk, you're working with many external partners," she says. "It's not dissimilar to running a military operation, where the operational environment is highly complex, there's risk and you tend to be working in coalition with other organisations, such as NATO.
"In both, you're bound together by a sense of desire and vision to do your best for people. The public service ethos runs deeply in both organisations. There's a moral and ethical dimension to it, and a value to it that's important."
Military service
Ms Rankin joined the Queen Alexandra's Royal Naval Nursing Service in 1987, after being impressed by a school visit
from a military nurse.
"I thought it sounded exciting – nursing with an added dimension," she recalls. "It was quite aspirational – it was very select. And the big bonus was that we were paid a salary: there was more cash than a [nursing] bursary, and that's great when you're 18 or 19."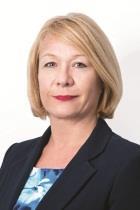 She registered in 1990 and then spent some time consolidating her practice before she was deployed to the Middle East in the first Gulf war, serving on the RFA Argus.
"I was working in intensive care and there were some casualties, but that war was over quite quickly," Ms Rankin says. She did not think to be nervous or apprehensive about being in a war zone. "At that age you think you're invincible," she says. "Then there was the whole camaraderie of being in the services. As a parent myself now, I think it must have been much worse for my parents. And of course there wasn't the benefit of mobile phones or email then."
A varied career included time as senior nursing officer at NATO headquarters in Lisbon, as nursing officer in charge of a 56-bed trauma and orthopaedic unit, and as a nursing adviser to the surgeon general within the Ministry of Defence.
In that role, she had the opportunity to look beyond the military, and a new career in the NHS beckoned, first with South Central Strategic Health Authority, and then with Ashford and St Peter's, which she joined in 2010 as chief nurse. She became chief executive a year ago.
Ms Rankin brings many leadership qualities honed in the military to bear in her current role - although not necessarily in ways one would expect. Contrary to popular belief, the military, she says, takes a devolved approach.
"What [the military] taught me was something around clarity of vision. It's about being clear about a plan, but also how important it is to empower people who work with you to deliver that plan. My role is to enable people to deliver that plan without feeling constrained."
Devolutionary zeal
She is a great believer in distributed leadership - devolving responsibility where possible - and in developing the skills and confidence of the workforce so that they are happy to take this on. One of her priorities at the trust has been to invest in leadership and other development programmes for staff, to create a cadre of leaders, which has a knock-on benefit for all staff.
"It's about empowering leaders," she says. "I don't have a specific view of a leader. I think everybody has a leadership function."
'I think everybody has a leadership function'
Ms Rankin believes resilience is one of the most valuable leadership qualities in today's NHS - and staying in touch with one's values as a human being.
"We're dealing with rising demand and coping with uncertainty. Resilience is important," she says. "But while that suits me, it's also important to recognise that this isn't a comfortable place for everyone to be," the chief executive adds. "It isn't everyone's world.
"As a leader, you have to realise that not everybody is the same - my world isn't everybody's world. My ambition for this organisation, and my job here, is to create the culture and the environment so that all the wonderful people here can do a brilliant job. That's what being a leader means."
Acertus has been retained to deliver the search and selection process for the leadership opportunities in operations and nursing at Ashford and St Peter's Foundation Trust. Find more details here